Ruth Nichols, 88, of David City, died Sunday, July 30, 2023, at St, Joseph's Villa in David City.
Service will be livestreamed on Kracl Funeral Chapel Facebook Page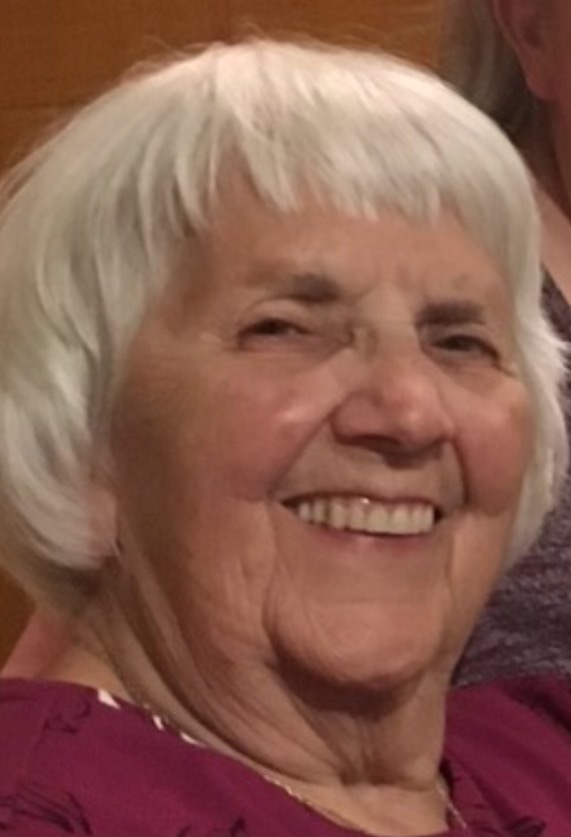 Memorial Service Monday, August 7, 2023,  11:00 A.M.
St. Luke's Methodist Church, Revs. Mark Schutt and Dan Spearow, Officiating
Visitation one hour prior to the service
Committal at a later date   Lunch following the service-church basement
Memorials in care of the family for future designation
Ruth Nichols was born on July 22nd, 1935, In David City Nebraska to Stella and Floyd Nichols, the 4th child in the family. Ruth went to David City Schools throughout her life and at age 17 met Bill Payzant who swept her off her feet. She then courageously decided to take a train to Norfolk VA where Bill was stationed in the Navy. They eloped much to the shock of her family and friends, but it lasted 30 years and resulted in her 6 children. They are Bill Payzant (married to Karen) Gary Payzant (married to Teri) Mike Payzant (married to Joan) Sue Ward (married to David) Debbie Cole (married to Gorden) and Vicki Black her youngest. Over the years her family grew to include her 16 grandchildren, 24 great-grandchildren, and 1 great-great-grandchild.
While raising these 6 kids in Schuyler, NE, along with many dogs, chickens, pigs, and horses, she managed to continue her artistic endeavors in the legacy of her father Floyd Nichols, and uncle Dale Nichols, both very accomplished artists locally and beyond. She created amazing artwork through painting with pastels, acrylic paint, and her biggest pride…sculpting. Despite the challenges of caring for her children and with the help of her hardworking husband, she was able to travel to Guatemala in 1978, to meet her uncle and mentor Dale Nichols, which continued her passion for perfecting her artistic talents.
After her children were off in their lives and her marriage was over, she began her new creative life.
She was instrumental in starting the Bone Creek Museum in David City. She continued to preserve her family's legacy. She renovated her Father's well-known sculptures at David City Park entrance and countless sacred statues in the churches surrounding the Butler County area.  Her artwork can also be found around David City at the public library, the Villa Nursing home, the North End station, St Mary's Catholic Church, and more. Many people enjoy her art in their private collections.  She was a long-time member of the Butler County Arts Council.  Ruth received a well-earned achievement award for the National Daughters of the Revolution.
The most memorable part of Ruth's life lies in the hearts of the children whom she taught artwork, for over 30 years (1984-2014).  She enthusiastically influenced many children to seek art as their career or to continue to be passionately creative in their lives. this was the proudest accomplishment in her life.
Ruth also knew how to sing! She was named after the famous Vaudeville star Ruth Etting and loved to impersonate her any chance she could get at events around town. Many of you reading this will remember the Vaudeville Days of David City.
She was preceded in death by her parents, two grandchildren, Tyler and Justin Payzant, great-grandchild Lily Epp. a brother and spouse, Jack (Rita) Nichols, two sisters and spouses; Ilene Boettcher  (Lloyd Byers and Walt Boettcher),  Norma (Don) Woolsey and brother-in-law Richard Rerucha.  Grandchildren Tyler Payzant, Justin Payzant and Great grandchild Lily Epp.
She is survived by her six children; Bill (Karen) Payzant of Lincoln, Gary (Teri) Payzant of Green River, Wyoming, Mike (Joan) Payzant of Okoboji, Iowa, Sue (David) Ward of Omaha, Deb (Gorden) Cole of Loma, Colorado, and Vicki Black of Lincoln, NE  one sister, Virginia Rerucha of David City, Brother in Law Don Woolsey,  13 grandchildren Season, Shawna, Cayla, Philip, Marcus, John, Sarah, David, Natalie, Lindsey, Amanda, Andrew, Zoe.  23 great-grandchildren and 1 great great-grandchild!  Lastly her dog Shadeau.