Bernard Kratky, 93, of Prague, died Tuesday, June 6, 2023, at South Haven in Wahoo.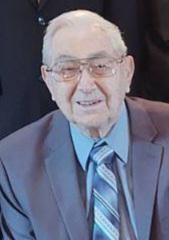 Funeral Service Saturday, June 10, 2023, 10:30 A.M.
Kracl Funeral Chapel, David City    Jerry L. Kracl, Officiating
Visitation Saturday morning   9- 10:30 at the chapel
Lunch at the funeral chapel immediately following the service
Committal with Military Honors 1PM-Prague National Cemetery
Memorials in care of the family for future designation
Bernard was born August 15,. 1929, in Prague, Nebraska to Anton and Mildred (Vech) Kratky.  He attended area schools and graduated from Prague High School in 1947.  In 1951, he entered the United States Army, serving in the Korean War and was discharged in 1953.  After returning home he went to work at Hormel's in Fremont.  On June 2, 1956, Bernard married Maxine Kavan at the Presbyterian Church in North Bend.  She also worked at Hormel's and they both left there in1959 to start the family farm.  He farmed until he could no longer climb on the tractor.  2014 was the last year he was round baling and 2018 was the last year his cows were sold.  Through the years he raised cattle, sheep and hogs, corn, soy beans, alfalfa, wheat and oats. He loved ordering out of the seed catalogues he would receive in the mail.  One of Bernard's greatest joys was starting plants in the basement and planting trees.  He was a member of ZCBJ Lodge #29 and had served as a board member.  He and Maxine served on the board of the Prague National Cemetery for several years.  Bernard also had served on the School Board and was a 50 plus year member of American Legion Post #340 of Morse Bluff.
He is survived by two  sons; Rodney Kratky and his fiance Barb Dye, Kenny Kratky and grandson Chad Kratky.  He was preceded in death by his parents, wife Maxine in 2022 and son, Brian Kratky.