Joyce Kasik, 85, of rural Schuyler, died Tuesday, August 15, 2023, at Brookstone Acres in Columbus.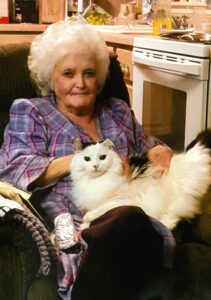 In lieu of plants, flowers and statues Memorials to the Wilson Cemetery
Mass of Christian Burial Saturday, August 19, 2023,  10:30 A.M.
St. Augustine's Catholic Church, Schuyler   Rev. Gerry Gonderinger, Celebrant
Visitation Friday 5-7 P.M.with 7 P.M.Rosary--Kracl Funeral Chapel
Visitation Saturday 9:30 A.M. at the church
Lunch in the church hall immediately following Mass
Committal at 1:00 P.M. in the Wilson Cemetery
Joyce was born April 5, 1938, in Beardstown, Illinois, to Richard "Dick" and Pauline (Wahl) Darveaux.  After graduating from Schuyler Central High, she worked as a secretary to County Attorney Francis O'Brien.  On November 13, 1964, she married Marvin Kasik.  They lived and farmed north of Camp Luther. She had a very special and devoted love to all of her children.  She also enjoyed attending Mass, collecting antiques and glassware, talking with her close friends, raising flowers, and caring for and loving animals.
Joyce is survived by her husband, Marvin of Schuyler, three daughters:  Valerie Kasik of Columbus, Tisa Kasik and her husband Walter Kim of Omaha, Shannon Moosa and her husband Khlil Moosa of Columbus, one son, Kurt Kasik of Lincoln, four grandchildren:  Eric (Sonja) Rogers, Tisa Kasik, Alex Long, Austin Long and many nephews and nieces.  She was preceded in death by her parents and one sister, Glenda Bailey.