Ernest "Ernie" Kabourek, 80, of Brainard, died Monday, August 14, 2023, at the Saunders County Medical Center in Wahoo.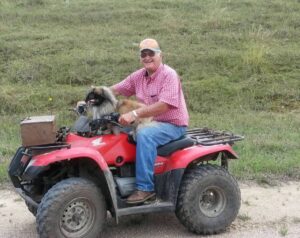 Memorial Mass
Saturday, August  26, 2023  11:00 a.m.
Holy Trinity Catholic Church
Brainard, Nebraska
Visitation Saturday, 9:30 a.m. to 10:30 a.m.
Rosary Saturday, 10:30 a.m.
All at the church
Interment of Cremated remains with Military Rites
New Holy Trinity Cemetery, Brainard
Memorials to the family
Ernest "Ernie" Kabourek, age 80, passed away peacefully on August 14, 2023, in Wahoo, Nebraska.  Ernie was born on February 24, 1943, to Frank and Rose (Foral) Kabourek in David City, Nebraska.
Ernie attended Oak Creek District 6 grade school in rural Brainard and graduated from Brainard High School in 1961.
On August 19th, 1967, Ernie was united in marriage to Judith (Judy) Kadavy.  They were blessed with two children, Annette and Jerome (Jerry). Ernie & Judy lived their entire married life in Brainard, NE while also farming just outside of Brainard in the beautiful Oak Creek area. Ernie and Judy also adopted Mari Beth and Kristin Kabourek. They were host parents to many foreign exchange students and after retirement they visited several of them in Czechoslovakia and Switzerland.  They spent many hours at the farm, enjoying their garden, checking crops & cows, and Ernie completing his "to do" list from Judy.  They enjoyed traveling together, playing cards and being a part of their bowling league.
Ernie served in the National Guard, was a heavy equipment operator, a bus driver for East Butler Public schools, a farmer, a Brainard Village Board member, an Oak Creek Township Board member, a proud American Legion Post 125 member, and a Holy Trinity Catholic Church parishioner. He truly enjoyed his three beautiful granddaughters, Haley, Hannah, and Hilary. As they got older you could typically find Ernie watching their games or bidding on the wrong girl at the FFA auction, always with a bag of popcorn and a cold Pepsi in his hand! Ernie loved the farm and spent many hours supervising.  He was very good at pointing out work that Jerry could do, or a thistle patch or two.
Wherever Ernie went he could usually find someone to visit with (listen to him and his stories). Whether he was slowly cruising around in his pickup and spotted a neighbor… or at Clayton's enjoying a cup of coffee… or at the post office… or the Village office…or the COOP… or a consignment auction (he never met a crooked hedge post or a beat-up gate he didn't like) … or at a ball game bus driving... the list goes on and on! When not visiting with whoever would listen, you'd find Ernie at home watching his Gunsmoke, doing 'bookwork' or enjoying a bowl of ice cream with Bandit. Ernie's passions were his family, his faith, driving bus, his cows, and four-wheeler rides with his cherished dog, Bandit. He spent many hours at the farm cabin enjoying time with Jerry, Dee, and the girls. Every stop at the farm cabin included a cold Pepsi, a deer stick, and of course telling his beloved and very patient daughter-in-law Dee, the newest version of an old story.
We will miss Ernie's visits, his quirks, and the twinkle in his eye when he knew he was being ornery.
Ernie was preceded in death by his wife Judy; daughter Annette; parents Frank and Rose Kabourek; parents-in-law Joe and Marie Kadavy; infant brother Leslie; brothers-in-law Bob Havlovic and Dale Buhl; and sister-in-law Laurie Kadavy.
He is survived by his son Jerry and daughter-in-law Dee Kabourek of Brainard; his granddaughters, Haley (Theo) Steinlage of Corning, KS; Hannah Kabourek of Lincoln, NE and Hilary Kabourek of Brainard, NE, great-granddaughter Colbie; siblings, John (Eldeen) Kabourek, Rita O'Dell, Jim (Pam) Kabourek and William (Suzanne) Kabourek; sisters-in-laws and brothers-in law Kathy (Darrell) Kubik, Charlene Havlovic, Mary Jo Buhl, and Dan Kadavy; and numerous nieces, nephews, relatives and good friends.