Agnes B. Thalken, 92, of Lincoln, formerly of Leigh, died Thursday, October 21, 2021 at CHI St. Elizabeth's Hospital in Lincoln.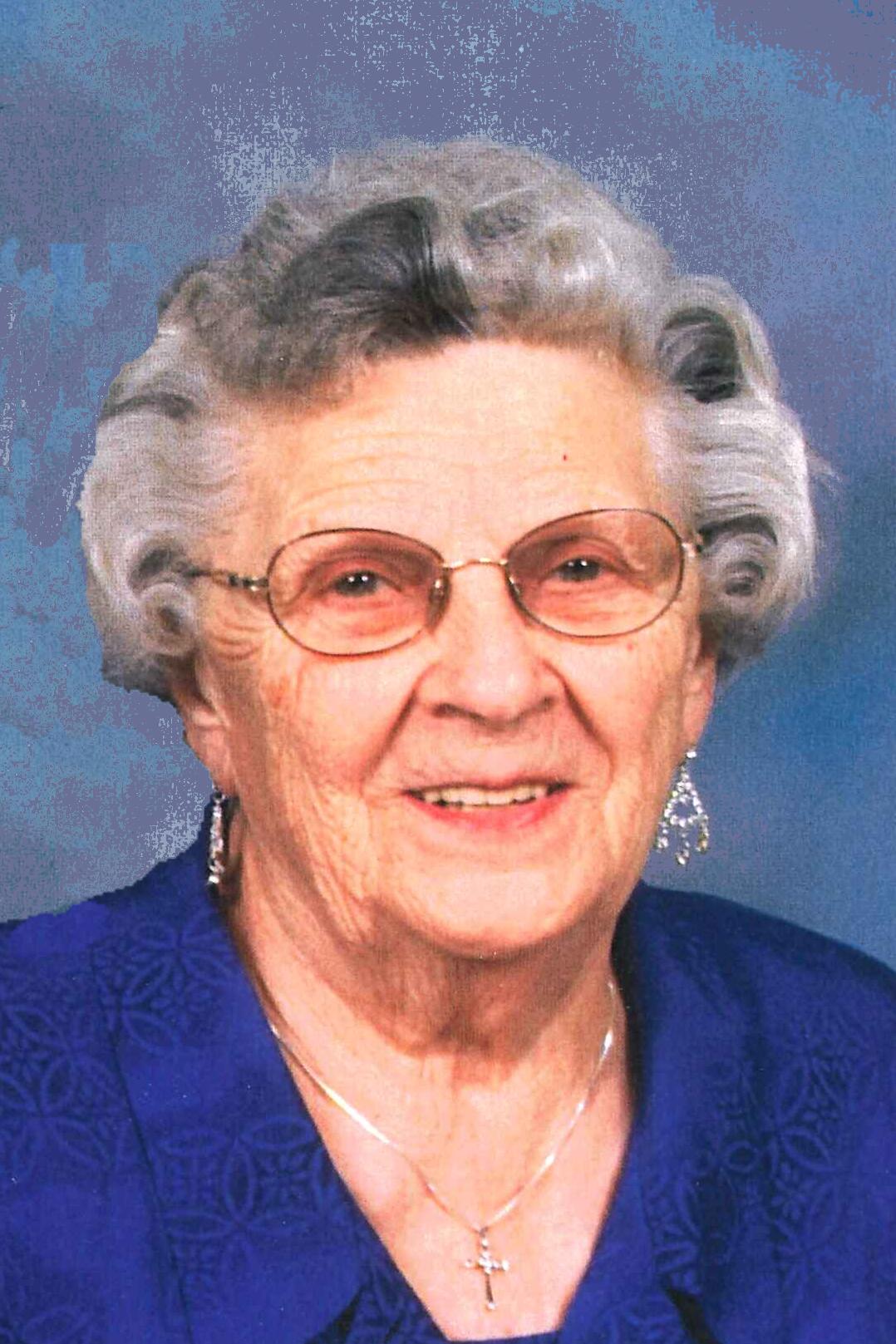 Mass of Christian Burial
Monday, October 25, 2021  10:30 a.m.  St. Mary's Catholic Church, Leigh, Nebraska, Rev. Eric Olsen, Celebrant
Visitation Monday 9:00 a.m. to 10:00 a.m., Rosary Monday 10:00 a.m. all at the church. 
Committal in St. Mary's Cemetery, Leigh
Lunch following the committal at the church
Memorials to the family for future designation
Agnes was born to Anton and Beatrice (Stodola) Jelinek on September 18, 1929 on a farm three miles west south of Clarkson.  She attended country school through 7th grade, then attended Howells Normal School (this allowed you to teach in a country grade school) to 11th grade when she then attended Clarkson Normal School and graduated at age 15.  She taught country schools for 4 years.  She married William Thalken of Clarkson, Nebraska in 1949.  they farmed southeast of Leigh, raising chickens, cattle, hogs and turkeys.  They raised 10,000 turkeys a year for 10 years.  In October, she dressed 500 of them every year for local people.  They retired from farming and moved into Leigh in 2001.  In 2010, they moved to Ceresco to be closer to all of their children and grandchildren.
She was active in the American Legion Auxiliary, holding many offices on the local and district level.  She was a Eucharistic Minister, and lector at St. Mary's Catholic Church.  She taught CCD for 29 years and served as coordinator for 18 years.  In 1994 Agnes received an Outstanding Catechism volunteer award for the Omaha Diocese.  In 2000 she received an Outstanding Dedicated Service award for the St. Mary's religious education program.  She was a member of the American Legion Auxiliary for over 42 years.  She was a cook at the Old Leigh Inn and at Park Place.  At the age of 80, she was still cooking at Park Place when they moved to Ceresco in 2010.
Cooking and baking were her loves, which she shared generously with her family and others.  Her potato salad was a requested item by many even outside of the family.  She was known to make anywhere from an ice cream bucket to a five gallon bucket for graduations, anniversaries  and family gatherings.  She crocheted afghans for the grandchildren's births, and recently  made embroidered quilts for the newest great grandchildren.  For the holidays, it was  important to have everyone at the farm.  Many times there were 14 people sleeping over and waking to a made-to-order breakfast.  Christmas meant each family got a dozen sweet rolls to take home.
Agnes was preceded in death by her husband Bill (married 68 years), parents and son Gary Thalken.  She is survived by daughter-in-law Pat (Schlautman) Thalken of Lincoln, daughter and son-in-law Carolyn and Ron Hajek of Ceresco, son and daughter-in-law Ken and Laura (Pearson) Thalken of Ceresco, eight grandchildren, 20 great grandchildren, brother and sister-in-law Steve and Yolanda (Last) Jelinek of Emory, Texas, and sister-in-law Emily Hastings of Columbus.