Verlyn "Buck" Kracl, 88 of Schuyler, died Sunday, January 5, 2020 at CHI Health in Schuyler.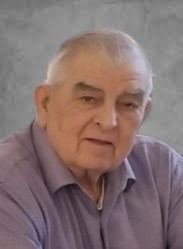 Funeral Service Friday, January 10, 2020, 10:30 A.M.
First Presbyterian Church, Schuyler, Nebraska
Reverend Sarah Gengler and Jerry L. Kracl, Officiating
Visitation Thursday 4-7 P.M.-Kracl Funeral Chapel, Schuyler
Visitation continues Friday 9:30-10:30 A.M. at the church
Committal with Military Honors at the Schuyler Cemetery
Dinner following in the church fellowship hall
In lieu of flowers, plants and statues, the family requests memorials for future designation to local charities
In lieu of thank you's, the family will make a donation in "Buck's" name to a local charity
Verlyn Eugene Kracl, better known as Buck was born May 16, 1931 in Schuyler, Nebraska to Frank and Eloise (Hooper) Kracl.
He received his education in Schuyler and then entered the military April 13, 1952, serving as an equipment operator in the U.S. Army. He was honorably discharged as Sergeant on April 13, 1960.
On October 5, 1956 he married Rose Ann Rezac in David City, Nebraska. Together they raised eight children.
Buck started working at Higgins Milling Company, but later started working side by side with his dad in the mechanic business, eventually taking over the business known as Kracl Garage.
Buck loved being a mechanic and his mind was always in motion. He could fix anything!! He enjoyed his Czech Heritage listening, singing and dancing to polka music and was a regular caller to request a song on the Sunday Polka show.
Buck was a member of the Schuyler Chamber of Commerce for over 40 years , and served for many years in the Schuyler Volunteer Fire Dept., where he was an honorary member.
He and Rose Ann recently celebrated their 63rd wedding anniversary with family and friends. Family meant a lot to him and this included his beloved four-legged family members, Shelby and Skye.
Buck is survived by his wife, Rose Ann, his eight children, Kathy (Jim) Cummings; Gary (Tracey) Kracl; Sharon (Frank) Bohaboj; JoAnn (Jim) Kaup; Tim (Laurie) Kracl; Dan "Digger" (Lori) Kracl; Bonnie (Kerry) Anderson; Marty (Carrie) Kracl.
Grandchildren Curtis (Michelle) Cummings; Kristen (Dusty) Long; Cherrie (Zac) Kerr; Erin (Cain) Martin; Nate (Nicole) Kracl; Kurt (Rita) Bohaboj, Keith Bohaboj, Alan (Aleisha) Bohaboj, Kelley Bohaboj, Jaimie (Scott) Blum; Aleshia (Tyler) Morris; Jennifer (Tyler) VanMeeteren; Mitchell (Lucia) Kaup; Ashley (Seth) Goeken; Chelsea (Brett) Baird; Clint Kracl; Mike (Jill) Kracl; Corey (Kate) Kracl; Brian (Gaby) Zrust, Cody Zrust and Jensen, Josie and Jake Kracl. He is also survived by 26 great-grandchildren. Siblings: Evelyn Kuwitzky, Marilyn Foster, Elayne Henry, Douglas Kracl, Richard Kracl, and Darrel Kracl.
He is preceded in death by his parents, siblings, Betty Kohout, Lavern Kracl, Gladys Eckland, twin brothers Marvin and Marlin Kracl, John "Jack" Kracl, David Kracl and a great-grandson, Brevin Blum.