Ethel Mach, 99, of David City, died Monday, July 1, 2019, at St. Joseph's Villa in David City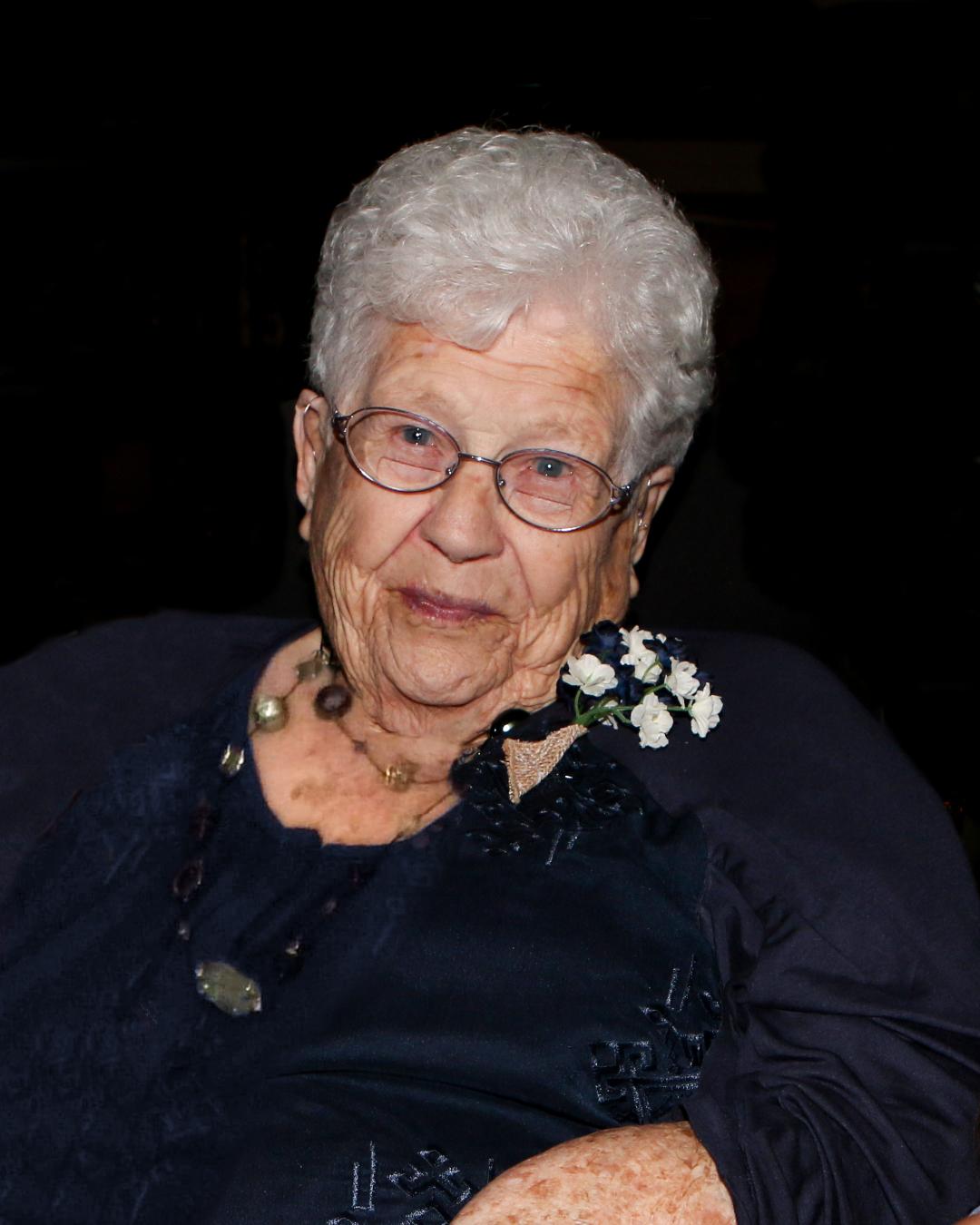 Mass of Christian Burial  Friday, July 5, 2019  10:30 A.M.
Sts. Peter and Paul Catholic Church, Abie  Rev. Ron Homes, Celebrant
Visitation 9 A.M. Friday  Rosary to be prayed at 10:00 A.M.
Lunch immediately following the Mass    Church Basement
Committal at Prague National Cemetery
Memorials in care of the family for future designation
Ethel Emily (Kaspar) Mach was born on July 5th, 1919, in Prague, NE, to August & Mary (Ourada) Kaspar. She married Adolph Mach on October 3rd, 1936 at St. John's Parsonage in Prague, NE. To this union, seven children were born. They lived on a family farm near Linwood, NE. After the passing of her husband, Ethel moved to Abie, NE, where she loved to participate in many activities. She played countless games of Bingo, loved to bake horn rolls, kolaches, and strudel, quilted with the church ladies, and embroidered. Ethel was a 75 year member of the ZCBJ Lodge.  She enjoyed spending time with her children and grandchildren. In 2013, she moved to St. Joseph's Villa in David City, NE. She could still enjoy her favorite activities and attend mass. She had a love for life, her family and Czech music.
Ethel is survived by four daughters; Georgia (David) Roebuck of Lancaster, Ohio, Glory Scheibe, Cedar Bluffs, Goldie (LaVerne) Krivanek of Abie, Sherrie Hampl of Wakefield, three sons; Dennis (Ginny) Mach of Fremont, Delbert (Charis) Mach of Everett, Washington, David (Gwen) Mach of Linwood, 18 grandchildren, 32 great-grandchildren and 6 great-great grandchildren, one sister, Blanche Bartek of Wahoo, brother-in-law Don Ostry of Prague and many nieces and nephews.
She was preceded in death by her parents, husband, granddaughter, Lisa Mach, three sisters; Helen Mach, Lillian Kudlac and Delores Ostry, infant brother Joseph, infant sister Anna, and son-in-law Wilfred Scheibe.
Ethel's grandchildren and their families:
Michael and Marcella Mach; Melissa and David Tyree, Christopher, Aaron, and Natalie; Jennifer and Albert Winkler
Russell and Patty Mach; Alexandra Mach, Michael Powell and Aiden; Paige Mach and Ada, Robert and Christie Mach
Mary Roebuck, Rebecca and Ian Anderson, Elliot and Lucy
Perry Mach, Nathan and Debbie Mach, Justin and Uyen Mach, James, Jesse, Jamie
Quinton and Suzi Mach, Kryssa and Erich Driscoll; Kaitlyn Mach
Trish and Bill Steager, Shania and Andy Doerr, Rori; Trevin Steager and Jordan Rathje; Kaley Steager
Anne and Tim Richeson, Josie, Jack, Emily
Paul and Angie Krivanek, Marcus, Mason, Emerson, Brecken, Ella and Emalynn
Brenda and Jeremy Achterhoff, Bennet and Ayden
Karen and John Hughes, Dayne and Owen, Christy Mach
Ami and Tony Siedlik, Gabrielle and Alaina
Andy and Brittney Hampl, Cinch, Journee, and Trigger