Gladys Rose Krivanek, 91, of Abie, died Monday, March 20, 2017, at St. Joseph's Villa in David City.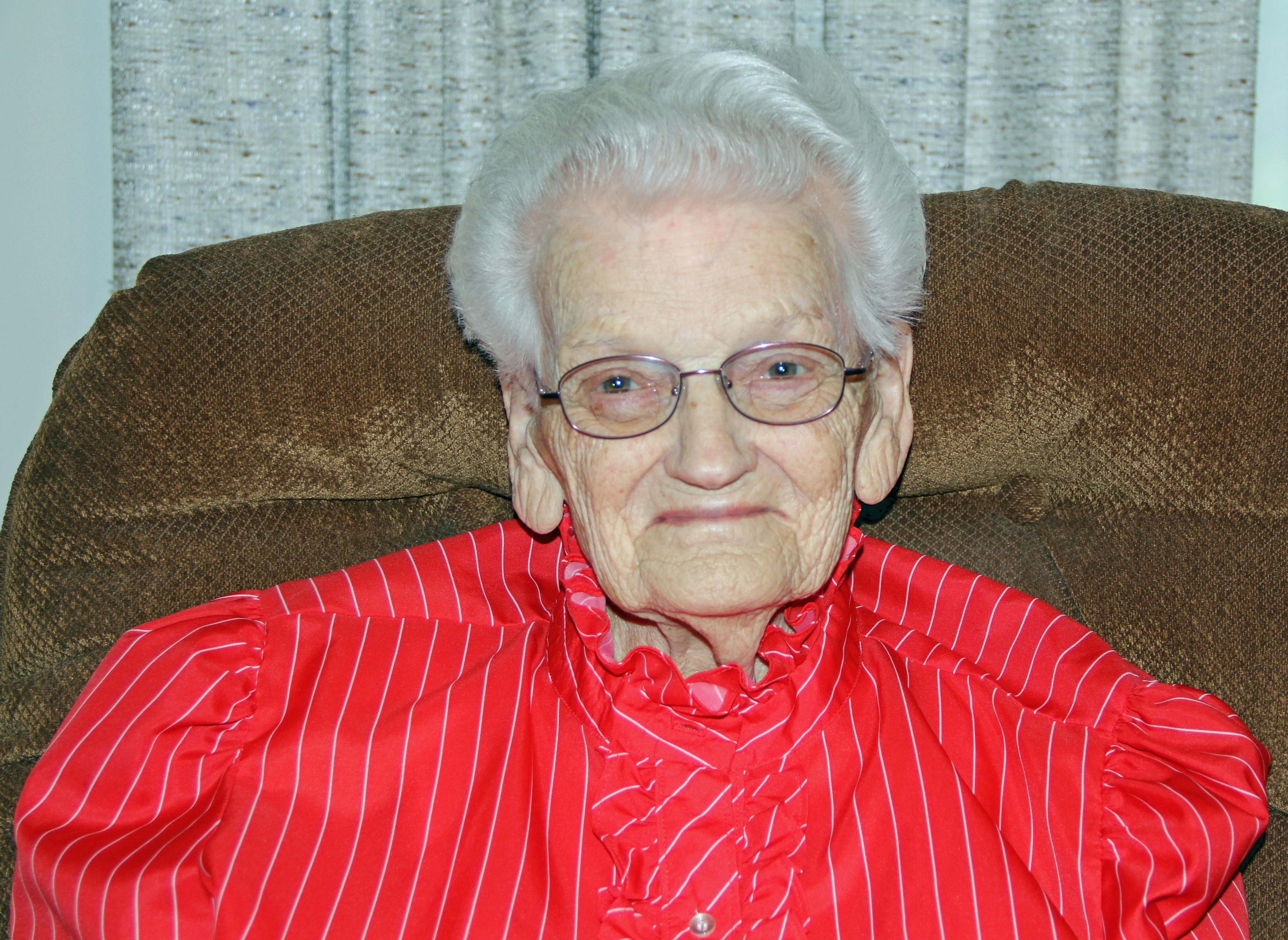 Mass of Christian Burial  Monday March 27, 2017   10:00 A.M.
Sts. Peter and Paul's Catholic Church-Abie  Celebrant Rev. Ron Homes
Visitation Sunday 4-7 P.M. with 7P.M. Rosary at the funeral chapel
Monday 9-10:00 A.M. at the church
Committal in the Abie National Cemetery
Lunch in the church basement following the committal
Memorials to St. Joseph's Villa or the church
Gladys Rose (Koza) Krivanek 91 was born on October 31, 1925 to Ludvik and Mollie (Bruner) Koza on a farm outside of Bruno, Ne.
Gladys attended Bruno Public School till the 10th grade she graduated as Valedictorian of her class; despite the fact she hated school.   While she was still attending school in Bruno one day she left school, walked home, just to have her dad drive her right back.  She then went on to graduate from David City Public High School; she was the first in her family to graduate.
Gladys married Milo E Krivanek on April 8, 1947 at St. Anthony's Catholic Church in Bruno, NE.  One son, LaVerne was born to this union.
She was a devoted wife, mother, grandmother and great-grandmother, she cherished all the times family gathered together.  Throughout her life she was a happy homemaker, gardener and a housekeeper at david place.  She was a member of the Morse Bluff American Legion Auxiliary.  She retired doing her favorite job, being Milo's caregiver.
Gladys enjoyed gardening and shared her produce.  She made canning an art and her grandchildren knew they could always pop by for a jar of pickles.  She loved to cook on Sunday and you could smell sauerkraut cooking on the stove.  She baked traditional kolaches, horn rolls and made her famous deviled eggs.   She taught her niece Kelly to pull strudel as she worked with her at Kelly's Café.
She loved music.  She and Milo would spin around the dance floor with a polka or waltz.  She would always ask Trisha and Anne to sing any chance she got but her favorite request was "You light up my life."  She loved laughter and telling good jokes, she would even write them down to get them just right.
She and Milo shared many, many hours with friend's playing cards like Scat, Pinochle and Canasta.  Gladys, Milo and Vern would play checkers during snowstorms.  After they would finish chores she would treat them with chocolate popcorn by the fire.  The checkers tradition carried on with Grandma and Paul, plus they would play 31, you can only assume her grandson was always the winner.  Gladys loved her word search and her games she enjoyed playing Bingo with the ladies, and if she was at home the game show network was probably on.  On a Wednesday morning you would find her having coffee at Abie's Place with her dear friends.  While at the Villa she enjoyed being tablemates with Grandma Ethel, visits from Sr. Frances and daily prayers.
Gladys had a special bond with her daughter-in-law finding the perfect special occasion outfits and accessories.  Of everything in life Gladys loved her family, she was not only Goldie's friend but a second mother, she was always there no matter what.  She would check in on everyone frequently or have them "honk" when they pulled into town.  The Abie Duck Dinner was like a holiday.  Everyone grabbed a take-out and spent the day between her house and festivities.  The grands and the greats brought a sparkle to her eye when family got together she was always the last hand to fold.
Gladys is survived by her son and daughter-in-law LaVerne (Goldie) Krivanek of Abie; 3 Grandchildren Trish (Bill) Steager of David City, Anne (Tim) Richeson of Lincoln and Paul (Angie) Krivanek of David City; 11 Great-grandchildren Shania (fiancé' Andy Doerr), Trevin (special friend Jordan Rathje) and Kaley Steager, Josie, Jack and Emily Richeson, Marcus, Mason, Emerson, Brecken and Ella Krivanek; many nieces, nephews and dear friends.  She was preceded in death by her parents, husband Milo (August 22, 2000), sisters and brothers-in-law Alice (Joe) Sabata, Sylvia (Edwin) Krenk, Agnes (Joe) Krenk and brother and sister-in-law Louis (Rita) Koza; sister-in-law Ella (Eddie) Eckstein, brother-in-law Raymond (Dorothy) Krivanek.