Lawrence Hillen, 100, of Leigh, died Thursday, March 16, 2017, at the Faith Regional Hospital in Norfolk.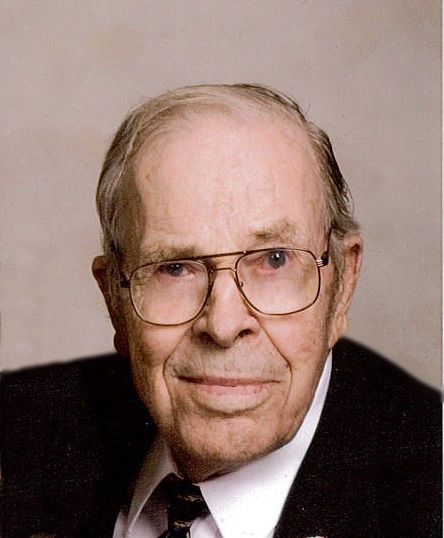 Funeral Service Wednesday, March 22, 2017, 10:30 A.M.
St. Peter's Lutheran Church in Creston  Reverend Jim Ernst, Officiating
Visitation Tuesday 4-8 P.M. at the Kracl-Leigh Memorial Chapel
Wednesday 9:30-10:30 at St. Peter's Lutheran Church
Lunch will be held at the church prior to the committal
Committal at the Creston Pioneer Cemetery
Memorials in care of the family for future designation
Lawrence was born January 26, 1917, at his grandparents home south of Creston to Fritz and Erna(Hake) Hillen.  He was baptized and confirmed at St. Paul's Lutheran Church south of Leigh.  He attended school district #43, Leigh High School and the University of Nebraska where he took the agricultural "short course."  He worked in the Civilian  Conservation Corps building roads, dams and irrigation structures in Oregon, Washington and Colorado.  In 1947 he returned to farming in Nebraska.  In 1948, he married Meta Strate and they had two children, Lois and Glen.  Following Meta's death in1979, he married Lillian Daniels Hake in 1987.  They lived  at Meridian Gardens in Columbus and following her death in 2008, Lawrence lived at Stanton Health Center.  He was known for his Registered Shorthorn Cow/calf herd and at age 85 could still rope and treat newborn calves.  The herd has evolved over the decades and is now owned by his son Glen and grandsons Ryan  and Curtis Hillen.  Lawrence had a passion for machinery repair and mechanics and also enjoyed woodworking and carpentry.  Over the years Lawrence had taught Sunday School, served as an Elder, later transferring his membership when the Presbyterian Church closed in Creston, to St. Peter's Lutheran Church in Creston. He was one of the early leaders of the Platte County Northern Lights 4-H Club and was a member of Harold Squares Square Dance Club.
Lawrence is survived by his children, Lois and Darwin Franzen and  Glen and Karen Hillen, 7 grandchildren, and 10 great-grandchildren.  He was preceded in death by his parents, two wives, Meta and Lillian and brother and sister-in-law Lester and Lucille Hillen.