Margaret Pecha, 92, of David City, died Sunday, October 1, 2023, at david place in David City.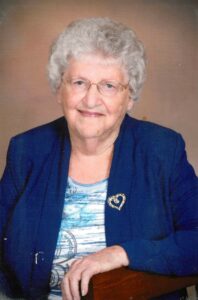 Mass of Christian Burial
Friday, October 6, 2023  10:30 a.m.
St. Anthony's Catholic Church, Bruno, Nebraska  Rev. William Holoubek, Celebrant
Visitation Thursday, October 5, 2023  5:00 p.m. to 7:00 p.m. 
Rosary at 7:00 p.m. all at Kracl Funeral Chapel, David City
Visitation Friday, 9:00 a.m. to 10:30 a.m. at the church
Committal in the church cemetery
Lunch in the church hall following committal
Memorials to the family
Margaret M. Pecha was born December 11,1930 at Bruno, Nebraska to John and Martha (Yindrick) Kucera.  She attended country schools near Bruno.   On June 9, 1949 she was united in marriage to Norman Pecha at St. Anthony's Catholic Church in Bruno.  Margaret was a life long Butler county resident, living in David City since 1984.  She was a member of St. Mary's Catholic Church in David City and was a member of the Altar Society at St. Mary's and St. Anthony's in Bruno.   She was also a member of the Brainard American Legion Auxiliary and a member of the quilting club.  Margaret enjoyed playing Bingo.
Margaret is survived by her daughter Mary Lou Grey of Columbus, Grandchildren Amanda Burchfield of Lincoln, Nathan (Kimberly) Czarnick of Lincoln, Great grandchildren Landon and Brooklyn Burchfield and Grayson and Ripley Czarnick.    Many nieces and nephews and great nieces and nephews.    She was preceded in death by her parents, husband Norman in 1984, Brothers Victor and Ernie Kucera and sister Helen Hlavac.