John A. "Jack" Eberly, 78, formerly of David City, died Friday, October 13, 2023 at Ridgewood Rehab and Care Center in Seward.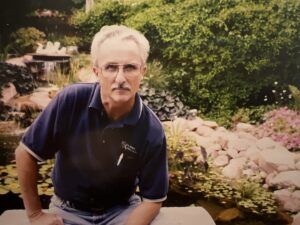 The family will host a celebration of life Memorial Service for Jack at Junto Winery beginning at 2:00 p.m., Thursday, October 19, 2023.  Junto is at 1356 182nd Road, Seward NE 68434
Memorials in care of the family for future designation
John Anthony Eberly
July 26, 1945
John "Jack" Eberly, age   78, formerly of David City, lived his last eight years in nursing homes.
He was born on July 26, 1945, in David City, NE to Richard E. and Viola Horacek Eberly.  Jack graduated from David City High School in 1963, and from Kearney State in 1970.  He worked briefly for a CPA firm in Columbus, NE and then spent 25 years running his own business, Eberly Tax & Accounting Service in David City.
Jack loved to fish, and he loved the Dodgers.  He was a golfer, a hunter, a good friend to many, a great business man and a wonderful family man.  He was a musician and played trumpet in a dance band for 15 years.  He directed the choir at the Methodist Church of which he was a 50-year member.  He sang with "The Good Old Gospel Singers", a group in David City.
He married Gayle Navrkal in 1972.  They raised two children, Daughter Heidi and son LJ (Levannes John) Eberly.  Jack and Gayle spent years following basketball, volleyball, and golf in which the children participated.  Family fishing trips, golf outings and parties and friendships filled the years.
Jack was diagnosed with Parkinsons disease at 46 years old.  He and Gayle helped start the Young Parkinsons Group in the State of Nebraska and Jack served as treasurer for the Parkinsons Association of Nebraska.  He fought the disease fearlessly for over 30 years, being one of longest PD survivors ever, next to Michael J. Fox.
Jack is survived by his wife Gayle, children Heidi and husband Steve McNally and LJ and wife Rebecca Eberly.  He dearly loved 6 grandchildren and spouses, Matthew and Lauren McNally of Bennington, NE, Dr. Brittany Albers and Blake Albers of Wisner, Dr. Molly McNally and Grayson Shelton of Blacksburg, VA, Brayden Effle of Omaha, Ne, Jace Eberly of Sioux City IA, and Gabrielle Eberly of Sioux City IA.
Jack has three very special great grandchildren, Herbert and Ainsley Albers, and Blair McNally.  He is also survived by his brother Jim Eberly and sister-in-law Terri Eberly, and sister Jeanne Icenogle and brother-in- law Lanny Icenogle, Brother-in-law Gary Navrkal and Val Leuders, John and Gwen Matulka and Gina and Steve Barlean.  He was preceded in death by his parents, Richard and Vi Eberly, parents-in-law, Adolph and Louise Navrkal, Sister-in-law, Joyce Navrkal, Cousin, Tony Horacek, Grandparents, Aunts and Uncles.
Jack loved life.  He loved his family, his friends, and he truly felt "It's a Wonderful World."