Mary Lawson, 82, formerly of David City, died Wednesday, September 20, 2023, at Immanuel Lighthouse in Omaha.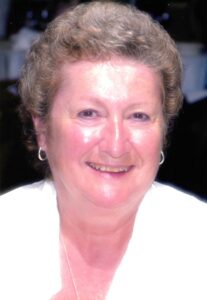 Mass will be livestreamed on the following link
Memorial Mass Thursday, September 28, 2023   11:00 A.M.
St. Mary's Catholic Church, David City  Rev. Brian Connor, Celebrant
Rosary 9:30 a.m. at the church
Visitation 10-11:00 A.M.   Committal in the Church Cemetery
Lunch at Northside immediately following the committal
Memorials in care of the family for future designation
Mary was born October 17, 1940, in Buenos Aires, Argentina.. Her family moved to California and she graduated from Palo Alto High School.  On November 8, 1958, she married William "Bill"  Lawson in Palo Alto.  They moved to David City where they lived and raised their family, moving to Omaha in 2013. Mary worked for Makovicka Physical Therapy for 22 years.  She was instrumental in starting the youth center in  David City.  Over the years she was active in the Mrs. Jaycees, Catholic Daughters, and the Firemens Auxiliary..She enjoyed knitting, music, travel and horses.  She had been named Best in Show at the Butler County Fair for her knitting.
Mary is survived by her husband, Bill of Omaha, children Billy (Monica) Lawson of Lake Okaboji, Iowa, Debbie Friedrich of El Dorado, California, Kevin (Kathy) Lawson of Dripping Springs, Texas, siblings Beatrice (Andy) Schildt, Placerville, California, Sylvia (Steve) Brook, Navato, California, Diana (Russell) Bennett of South  Petherton, England and four grandchildren; Logan and Alexandra Friedrich, Allison Travis and Nick Lawson.  She was preceded in death by her parents.