Dennis Schroeder, 89, of Columbus, died June 1, 2023, at the Meridian Gardens in Columbus.
Stitches and Petals Flower Shop of Dodge will deliver to Leigh (402)693-2477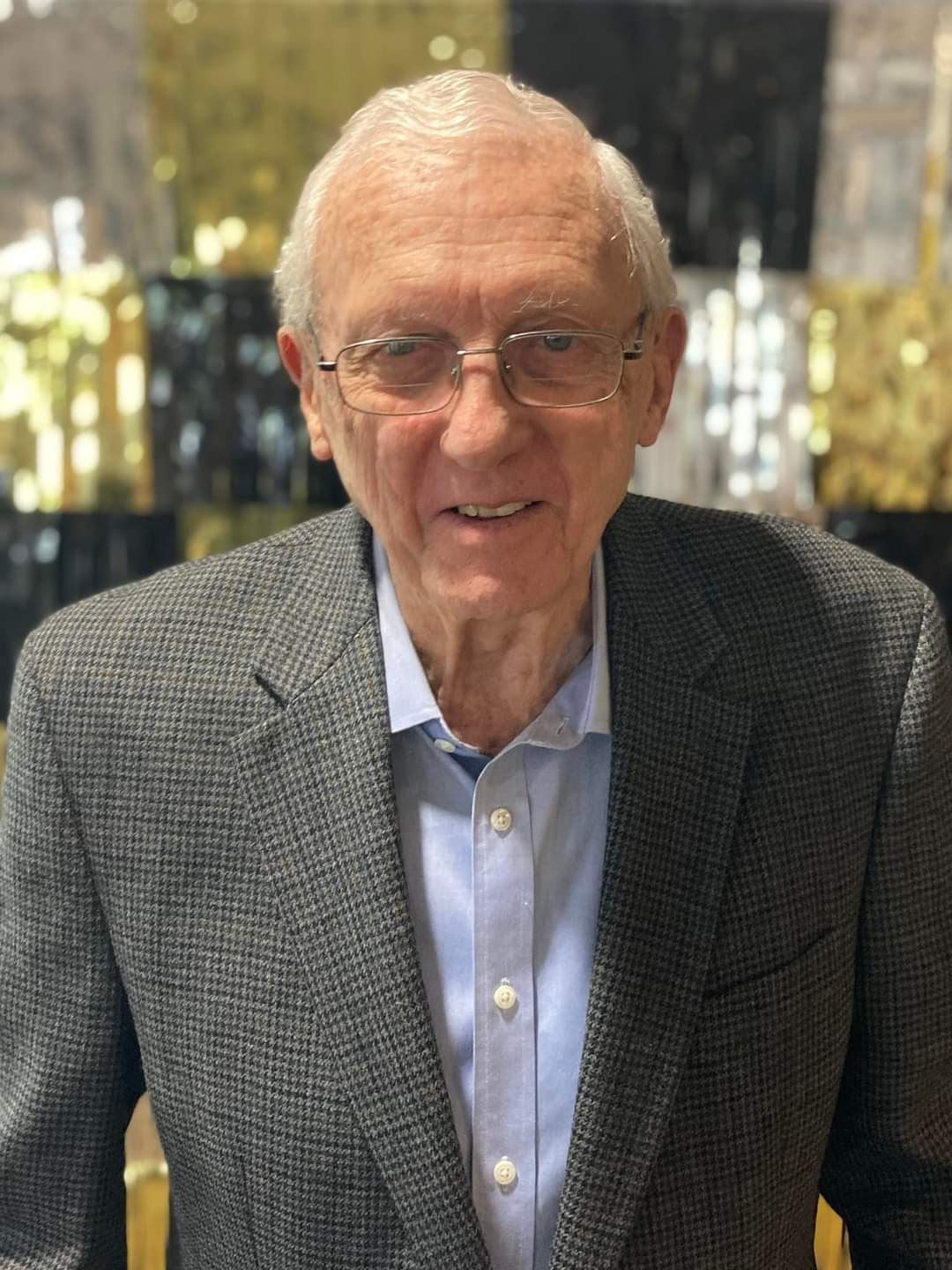 Funeral Service Saturday, June 17, 2023, 11:00 A.M.
St. John's Lutheran Church, Leigh  PMA Ron Lofgren, Officiating
Visitation Friday June 16th  5-7 P.M. and Saturday 9:30-11AM--at the church
Committal with Military Honors in the Leigh Cemetery
Lunch in the church basement following the committal
Memorials may be directed to the Alzheimer's Association or Donor's Choice
Dennis Eugene Schroeder peacefully passed away with three generations by his side on Thursday morning June 1, 2023 at 2:56 AM at Meridian Gardens memory care center. He is now resting with the Lord.
He was born May 30, 1934, in Leigh, Nebraska to Carl Wilhelm Schroeder and Emma Sophia Menke Schroeder. His father was an immigrant from Kiel Germany. He was raised on the family farm outside of Leigh, Nebraska and attended Leigh community schools and high school where he graduated in 1951. After graduating from high school , he worked for the family farm. He also worked on Nebraska roads doing construction. After a few years of hard work, he decided to serve his country and enlisted in The US Army where he served from 1954 to 1956. He had the privilege of traveling overseas and serving in Okinawa, Japan, during this tour of duty he brought back sets of China for his mother and sisters, which are still in the family today.
After serving in the army, he went to college at the University of Nebraska Lincoln and received his mechanical engineering degree. While in college he met his wife, Alfreda Stute and they were married June 30, 1962,in Haigler, Nebraska. He worked for McDonald Douglas in California and then in Denver for Martin Marietta, where they had their first child. To be close to his mother and father and help on the farm, he accepted a position at Dale Electronics in Columbus, Nebraska. The family grew to 3 children. Dennis and his family eventually moved to Northern Kentucky in the greater Cincinnati area as they became  successful Amway Diamond distributors. Dennis later consulted for H&R Block during tax season. He enjoyed helping families file taxes in Omaha. Dennis was also an active member in the Rotary club, The Lions Club, Sertoma service organization and Thrivent, where he received the Community Care Award. In his spare time he enjoyed the game of golf and playing cards. Dennis enjoyed volunteer work at the Orpheum theater in Omaha, where he ushered into his mid-80s. He went to live in assisted-living so they could help with his Alzheimer's. He was a good loving father to his children and his grandchildren. He enjoyed babysitting, going to all the sporting events and activities and graduations across all the miles no matter where they lived.  He was so happy seeing  all of four of his great granddaughters which just lit up his smile,  even during his last hours of life on earth.
He was preceded in death by his mother Emma and father Carl and his sister, Marceline, and husband, Mark Foltz, and his sister, Lorraine and  husband, Robert Held
He is survived by his children Ann and her husband, Grant of Joplin, Missouri, Diana and her husband, Pat of Parker, Colorado and Kyle and his wife, Chrissy of Fort Thomas Kentucky. He was also survived by his grand children Keeley and her husband, Simon Boever of Sioux Falls, South Dakota and their daughters Hartley and Bella his granddaughter, Heidi and her husband, Nathan Leddige, and daughters Payton and Casey of Poulsbo, Washington and his grandson Sam Schroeder of New Jersey,  his grandson Joey Schroeder of Cincinnati, Ohio, his grandson Niko Dowling of Parker, Colorado, and his granddaughters Kennedy and Sophia Schwartz, of Joplin, Missouri. He is also survived by many many loving nieces and nephews.
Stitches and Petals Flower Shop of Dodge will deliver to Leigh (402)693-2477