Tami Liskovec, 63, of Monroe, died Wednesday, May 31, 2023, at her home.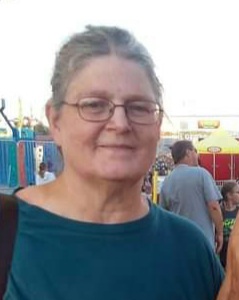 FUNERAL SERVICE WILL BE LIVE STREAMED ON
KRACL FUNERAL CHAPEL FACEBOOK PAGE
Funeral Service Monday, June 5, 2023,  11:00 A.M.
Trinity Lutheran Church, Columbus   Rev. Ollie Fullmer, Officiating
Visitation 9-11:00 A.M.  Family Prayer Service 10:45 A.M.
Committal in the Friends Cemetery, rural Genoa
 In lieu of flowers Memorials in care of the family to help with funeral expenses

Tamara Ann was born August 8, 1959,  in Columbus, Nebraska to Don and Phyllis (Stickney) Blessen.  She was baptized and confirmed at Trinity Lutheran Church, attended Columbus Public Schools and graduated from Columbus High School.  On April 22, 1978, she married Robert Liskovec at Trinity in Columbus.  They lived in Columbus and eventually moved to Monroe.  Tami had worked at B-D and later in food service in Columbus.  She collected anything "M and M's", Golden Books and stamps.  Tami loved to crochet and cross stitch, bowling when her health permitted and watching crime shows.  Her greatest joy was her family and spending time with her grandkids.
Tami is survived by her husband, Rob of Monroe, one son, Rodney (Jackie) Liskovec of Grand Island, four daughters; Melody (Virgil) Held of Cheyenne, Wyoming, Renae (Jeremy) Jaeger of Columbus, Betsy Liskovec and Kelley (Mack) Miller of Monroe, her mother, Phyllis Blessen of Columbus, eleven grandchildren, one brother, Todd (Kathy) Blessen of Garrison and three sisters; Teresa Sterup  of Tecumseh, Tracy (Lynn) Belitz of Fullerton and Tonya (Matt) Dykstra of Omaha.  She was preceded in death by her father, Don Blessen and grandparents, Otto and Celia Blessen and Ed and Lucille Stickney.