Laverna Skarka, 90, formerly of Rogers, died Thursday, March 2, 2023, at the Emerald Care Center in Columbus.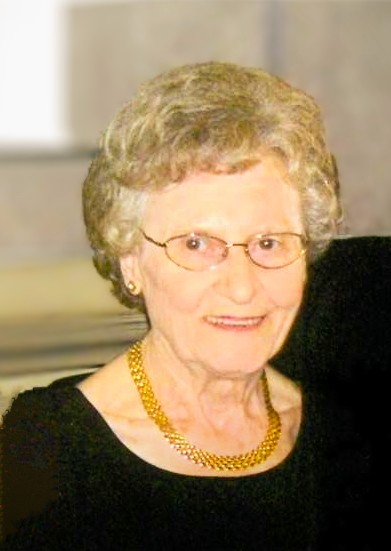 LaVerna K. Skarka, 90 died on Thursday March 2, 2023 in Columbus.  In honor of her wishes she chose to be cremated and buried in the Prague, NE cemetery with a private family graveside service.
LaVerna was born April 25, 1932 to Bohumil and Christina (Benes) Cech.  She received her education in Clarkson and then attended Wayne State College where she earned her teaching degree.  LaVerna taught in a one room country school where she also played the piano and had her students singing polkas and waltzes in Czech.
On June 27, 1952, LaVerna married Harold Skarka.  They were blessed with 6 children, Donald, Allan, Larry, Dorothy, Dianne and Randall.
LaVerna was a devoted mother and always made sure that the family had plenty to eat and clean clothes to wear.  For 30 years Harold and LaVerna made their living farming.  For the first several years, LaVerna helped with the field work, chores and she always raised a large garden.  To help feed the family and provide some income she always had chickens; normally around 300.  Selling eggs in town was done on a weekly basis until the chickens quit laying late in the fall; then she would butcher 10 per day and sell fresh chicken in town.
In 1973 Harold and LaVerna sold the farm and bought "The Chicken Hut" in Rogers.  They changed the name from The Chicken Hut to "Skarka's Dancing Bar & Grill.  For the next three years, LaVerna was the cook and on dance nights when she wasn't in the kitchen she would help in the bar area and occasionally would get to dance.
A few years after all the kids were raised and out of school, LaVerna and Harold divorced.  LaVerna's love for polka music and dancing would find her going to dances where she would meet a group of lady friends.  This group of ladies would listen and sing along with the music and danced when asked.  This all changed when a gentleman by the name of Jim Kasper asked LaVerna to dance.  They became best friends and spent the next 16 years going to dances and frequenting casino's in Iowa.  LaVerna commented many times that they were the best 16 years of her life.  After Jim's passing in 2010, LaVerna continued going to dances, supporting her sons Don, Larry & Randy and son-in-law Kenny Shuda.
Following an unfortunate fall in late 2015, LaVerna entered into assisted living in Schuyler and a few years later was moved to Emerald Care in Columbus.
LaVerna is preceded in death by her parents Bohumil & Christina Cech, an infant son Allan, a daughter Dianne Shuda, daughter-in-law Nadine Skarka, 2 sisters Wilma Hake and Helen Krupka, grandson Mike Woelfel, and her friend of 16 years, Jim Kasper.
Those left to cherish her memory include her three sons, Donald, Larry (Shirley), and Randall (Brenda);  one daughter Dorothy Eschliman (Dan) and son-in-law Kenny Shuda; three brothers, Lumir (Mary), Frank (Bonnie) and Ernest (Linda), one sister Olga Paulick, 10 grandchildren and 19 great-grandchildren.