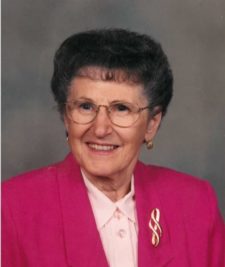 Marcella Bahns, 90, of Schuyler, died Saturday, September 5, 2020, at Nye Legacy in Fremont where she resided the past two years
MASS WILL BE LIVE STREAMED ON KRACL FUNERAL CHAPEL FACEBOOK PAGE
Mass of Christian Burial  Thursday, September 10, 2020, 10:30 A.M.
 St. Mary's Catholic Church, Schuyler, Nebraska - Rev Gerry Gonderinger, Celebrant
Visitation Wednesday 4-6 P.M. No family present--Kracl Funeral Chapel
Visitation Thursday 9-10:00 A.M. with 10:00 A.M. Rosary at the church
Committal in the Schuyler Cemetery
In lieu of flowers Marcy requested memorials to the Colfax County Senior Center
Marcella was born April 4, 1930, west of Abie to Joseph C. and Albina (Zelda) Schmid.  She attended area schools and graduated from Schuyler High School in 1948.  On September 20, 1949, she married Dennis Bahns at St. Mary's Catholic Church in Schuyler.  They lived on a farm north of Leigh.  They had no electricity, running water or telephone at first.  Among some of their many tasks were raising pigs, chickens and crops.  Marcella would help a nearby commercial operation cleaning chickens, up to 200-300 a day. They moved to Schuyler in 1973.  Dennis worked for the Department of Utilities.  He died in 1997.  While in Schuyler Marcy worked at Ben Franklin's for 16 years, 5 years at Just a Buck, part-time at Husker Bar & Grill, and also worked at Don's Bakery. She retired from Bomgaars in 2004.  Marcella loved to play cards, do puzzles and bake, kolaches and horn rolls were among her specialties. She was a very active volunteer at the Colfax County Senior Center for many years.  She was especially effective in the "popcorn ball" fundraisers.  Since Marcy left,  the popcorn ball project went with her.  She was always willing to assist in any way she could.  She was a member of St. Mary's Catholic Church, the Ladie's Guild and assisted with funeral lunches.
Marcy is survived by numerous nieces and nephews and her fellow volunteers at the Senior Center.  She was preceded in death by her parents, husband Dennis, siblings and their spouses; Mildred (Dean) Gaskill, Victor (Alice) Schmid, George (Sally) Schmid, Milo (Maxine) Schmid, and nephews: Gary Schmid, Byron Gaskill, and Jay Gaskill.