Lucille Poole, 102, from Schuyler, died Wednesday, May 27, 2020, at david place in David City.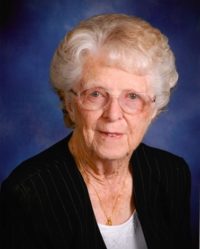 Private Funeral Service
Saturday, May 30, 2020 11:00 A.M
Live streamed on Kracl Funeral Chapel Facebook
Visitation Friday 2-4 P.M.  No family present
Kracl Funeral Chapel, Schuyler
Memorials in care of the family for future designation
Lucille was born November  23, 1917, west of Schuyler to George and Zepher (Peters) French.  She attended area schools and graduated from Schuyler High School in 1935.  On April 24, 1937, she married Everett Poole at the Manse of the First Presbyterian Church in Schuyler.  They lived in the North Bend area for a time and returned to Schuyler.  Lucille worked at Schuyler Memorial Hospital, Pfeifer Studios, was a receptionist for Drs. Fencl and Sucha and later worked at the Schuyler State Bank.  She was the last surviving member of her graduation class.  Lucille was a member of Christ United Methodist Church, United Methodist Women, served on the Schuyler Cemetery Board, Senior Center Advisory Board, Election Board and volunteered wherever she was needed.  She enjoyed dancing, cooking, gardening, cards, and visiting with friends.  Her greatest  love was family and she spent all the time she could with them. Lucille was at david place for 5 years and loved the staff like family.
Surviving are her three daughters; Darlene (Valerian) Bohaty of Lincoln, Carma (John) Schmidt of David City and Virginia (LeeRoy) Swanson of Blair.  She has 7 grandchildren, 17 great-grandchildren and 11 great-great grandchildren.