Fred  "Fritz" Vandenberg, 88, of David City, died Thursday, January 2, 2020, at Bryan LGH West in  Lincoln.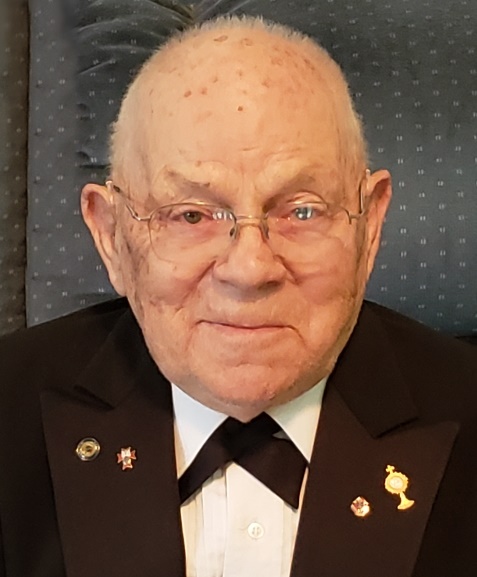 Memorial Mass
Monday, January 6, 2020  10:00 a.m.
St. Mary's Catholic Church, David City, Nebraska
Rev. Jay Buhman, Celebrant
Visitation Sunday, January 5, 2020  5:00 p.m. to 7:00 p.m.
Knights of Columbus Rosary 7:00 p.m. all at Kracl Funeral Chapel, David City
Visitation one hour before mass Monday at the church.
Committal with Military Rites,  St. Mary's Cemetery, David City
In Lieu of flowers, memorials to the family.
Frederick "Fritz" Henry Vandenberg was born to Henry and Helen (Litty) on January 8, 1931 in Brainard, Nebraska.  He passed away on January 2, 2020 at the age of 88 years, 11 months and 25 days in Lincoln, Nebraska.
He was a member of St. Francis (Center) church in David City.  After moving to David City, he became a member of the St. Mary's Catholic Church. He was a 4th degree knight with the Knights of Columbus.
He served in the United States army from 1953 to 1955, stationed at Sandia Base, Albuquerque, New Mexico.
Fred was united in marriage to Joan Pflughaupt on August 24, 1954 at St. Vincent DePaul, Seward, Nebraska.  They were blessed with four children.
Fred was a devoted husband, had celebrated 65 years of marriage, loved his kids and grandkids.  Loved to go to auctions and pick up the 25 cent boxes, was an engineer  of mismatch of inventions (ask his boys), he was generous with his time and had a big heart.  He was well known in this area.
Throughout his lifetime, he was a farmer for 30 plus years in the Brainard area, after that drove a propane truck in David City, retired from working for the city of David City, and then continued to do odd jobs.
Fred is preceded in death by his parents, Henry and Helen Vandenberg, Henry and Alma (Schomburg) Pflughaupt, sister Beatrice (Vandenberg) and George Hotovy, brother Ernest "Dutch" Vandenberg, sister-in-law and brother-in-law Aloha (Pflughaupt) and Clarence "Barney" Pozehl, daughter-in-law Becky (Tate) Vandenberg.
Fred is survived by his wife Joan and sons, Nick and Linda (Brokaw), David City, Greg and Kathy (Wood), Seward, Steve, Emerald and Jeff and Judy (Kallenbach), Seward; grandchildren Jayme and Harley Kelly, Lincoln, Amanda Oliver (Jon), West Point, Darek and Nicole (Sypal) Vandenberg, Staplehurst, Jeff Jr. and Kelly (Newsome) Vandenberg, Omaha, Jennifer (Vandenberg) and Curt Thomas, Lincoln, Joshua and Shelly (Besch), Omaha, Chad and Sarah (Jedlicka), Dike, Iowa, Carl and Nisma (Dahood), Lincoln, Angie (Tate) and Mike Hertzel, Lincoln, Autumn Tate, Lincoln, Marty Allen and Rochelle (Mayfield), Utah and Brice Allen and Tiffany (Prothman), David City, and 14 great grandchildren and 12 step grandchildren, sister, Marie and Norm Hoeft, David City, sister-in-law Sally Vandenberg, Brainard.