William "Bill" Prochaska, 91, of Brainard, died Monday, July 15, 2019, at St. Joseph's Villa in David City.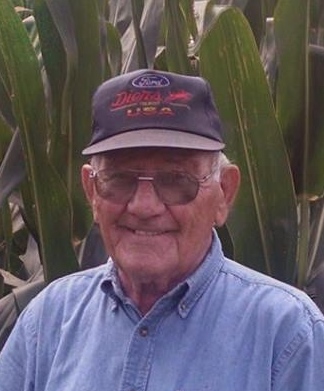 Mass of Christian Burial Monday, July 22, 2019 10:30 A.M.
Holy Trinity Catholic Church, Brainard
Rev. Steve Snitily, Celebrant
Rosary Service 10:00 A.M. Monday prior to Mass
Committal in the Holy Trinity Catholic Cemetery with Military Honors
Lunch following in the Church Hall
Memorials in care of the family for future designation
William J. "Bill" Prochaska was born on August 24, 1927 to William F. Prochaska and Josephine Codr on their family farm six miles southwest of Brainard, Nebraska.  Bill attended Sunny Side Country School District 77, Brainard High School for two years, and graduated from Dwight Public School in 1944. Bill spent the bulk of his time as a young man working diligently on the family farm with his dad and three brothers. On August 8, 1951, Bill married Martha Bruner at Holy Trinity Catholic Church in Brainard. Six days thereafter, Bill was drafted into the U.S. Army and he was stationed at Ft. Riley, Kansas for basic training. Their first and only son, Donald, was born in Ft. Riley, Kansas in 1952.  After basic training, Bill and Martha moved to Manhattan, Kansas until October of 1952. Bill then spent nine months in Toul, France as a mechanic. After Bill's discharge in July 1953, Bill and (Martha and Don) returned to Butler County and moved to a farm southwest of Brainard where Bill began what would become his life-long career as a farmer. Initially, Bill farmed and worked several different jobs, including:  mechanic, school bus driver, and semi-truck driver. During this time, Bill and Martha had three additional daughters, Susan, Carol, and Patricia, all of whom were born in David City.
Bill was an active member of Holy Trinity Catholic Church in Brainard his entire life, serving in various capacities including lector. On December 1, 1969, Bill and Martha moved their family into a home they built in Brainard where Bill and Martha lived until mid-January 2017. Although he and his family lived in town, Bill much preferred life on the farm. Bill spent as much time as he could there, even after he officially retired from farming in 1992. Bill was an extremely hard worker with an unwavering, steadfast work ethic and very high standards.  Although retired, Bill never quit farming and spent time ensuring that everything was running as it should.  Bill started a garden on the farm and took pleasure whenever his garden appeared to be producing a better crop than Martha's garden in town. Bill always took great pride in maintaining the very large yards on the farm as well as in town. In winter, Bill spent a lot of time "tinkering" in the quonset. Bill enjoyed fishing a great deal, and in addition to fishing the pond on his farm, he occasionally went on multi-day fishing trips with his friends. In addition to these fishing trips, Bill also tried his hand at deep sea fishing a few times while visiting his daughter Patricia and son-in law in California. Bill also went on one very special fishing trip with his son, Don, to Alaska.  While not an avid vacationer or traveler, Bill often drove to Colorado to visit his daughter Carol.  He and Martha also traveled to nearly every city in the U.S. in which his daughter, Patricia, and her family lived.
In 1992, Bill was elected to serve District #6 as a Butler County Supervisor.  Bill served in this capacity for two terms, until 2000. Bill was Chairman of the Board of Supervisors in 1999 for one year. Bill was also a Past Commander and Chaplain, as well as a Permanent Member of Rejda Post #273 of the American Legion.
Bill is survived by his wife, Martha, his three daughters, Susan, Carol, and Patricia, seven grandchildren, eight great grand-children, and several nieces and nephews.
Bill was preceded in death by his parents, his son Donald, and his three brothers.