Arlene Lemke, 85, of Brainard, died Thursday, July 11, 2019, at david place in David City.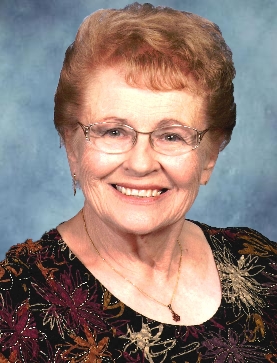 Funeral Service Monday, July 15, 2019, 10:30 A.M.
Immanuel Lutheran Church, rural Rising City, Nebraska
Reverend David Palomaki, Officiating
Visitation Sunday 3-5 P.M.  Kracl Funeral Chapel, David City
Visitation continues Monday 9:30 A.M.at the church
Committal in the church cemetery
Memorials in care of the family for future designation
Lunch in the church basement following committal
Arlene was born on August 24, 1933, on a farm in North Bend, Nebraska, to Tony and Libbie Ondracek. She was Homecoming Queen at North Bend High School and graduated as a Salutatorian in 1951.
Arlene married Donald Lemke on July 27, 1952 in Cedar Bluffs. They started life on a farm and later moved to the edge of town where Don ran Skelly gas station and Arlene ran the Sweden Cream. With 4 children in their aqua blue '58 Cadillac, their next moves were to Spokane, WA, Portland, OR and Garden Grove, CA. Arlene learned to type fast and accurately and she loved it! Trustworthy, Arlene did security typing for McDonald Douglas on the DC-10.
In 1976 the family moved to Brainard where Don and Arlene ran Brainard Meats until 1983. After beating a 2-year illness, in 1985 the couple returned to California where Ar always found employment as a secretary and helped with Don's BBQ catering business. She and Don were hard workers and by example taught their children to adopt a 'can do' attitude! Her favorite job was working as an administrator in a California women's prison for 8 years … before retiring to Brainard in 2001.
Wherever they moved, they found a Lutheran Church and immediately Arlene joined choir. She sang as a soloist on many occasions. Besides singing (she was once offered a singing contract with Capitol Records), she enjoyed cooking, sewing, reading, flower gardening, camping, fishing and spending quality time with her grandchildren.
Arlene is survived by 3 children: Gail (and Ray) Stolze, Brainard; Lori (and Steve) Seale, Boise, ID; Chris (and Denise) Lemke, North Platte. Grandchildren: Craig (and Katie plus Lyssac and Lily) Stolze; Steven (and Ashley) Stolze; Brandon Stolze (and fiance' Abby Koso); Alisha Pena (and Brice Sorrells); Cody Lemke and Samantha Lemke, Clovis, CA; Danielle (and Jeremy) Behne; Tyler Lemke; Max Lemke; Nick Lemke. Plus son Kurt's dear friend Jan Vyeda, CA; Ar's brother Tom (and Lorrie) Ondracek, MN, and many relatives and friends.
Arlene was preceded in death by son Kurtis in 2014, husband Donald in 2015, sister Maxine Raisl, brother Denny Ondracek, and other family members.