Zoe Smith, 90, of David City, died Tuesday, November 13, 2018, at david place in David City.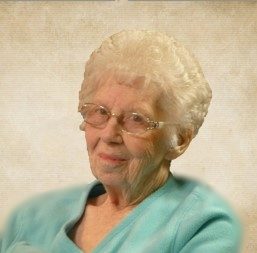 Memorial Service Tuesday, November 27, 2018  2:00 P.M
Kracl Funeral Chapel, David City  Rev. Robert Henre, Officiating
Visitation 11-2:00 P.M.   Refreshments following the service
Memorials in care of the family for future designation
On a hot, dusty day in Nocona, Texas, Zoe Evelyn Humphreys was born to William Robert and Alpha Gladys (Kilgore) Humphreys, abstractor and housewife.  The date was August 18, 1928.  She was the first-born of three children.  One can only imagine that she came into this world with the same sweet disposition as she left it.
Just months after Zoe's birth, the family moved 267 miles west to Tulia, Texas, which became home.  She grew up in the Methodist church, where she attended Sunday school, vacation Bible school, played in piano recitals and attended revival meetings.  The church was her second home.
After high school graduation, Zoe Evelyn ventured off to McMurry College, where she received her Bachelor of Science degree in Liberal Arts in 1949.  While attending McMurry, Zoe Evelyn met her future husband, Roy Maxell "Smitty" Smith of Roaring Springs, Texas.  They were married on August 29, 1951, in Zoe's hometown Methodist Church.  They made many moves over the years, before retiring in Tulia to be near Zoe's mother.
Zoe worked as an elementary teacher after graduating from McMurry and as a secretary at Oklahoma State University in her early years of marriage.  She was a stay-at-home Mom and entrepreneur, artist and doll-maker.  She worked as the church secretary at Southgate United Methodist Church in Lincoln, Nebraska, and held an abundance of volunteer positions over the years.  There will never be another like her.  Zoe received many accolades throughout her entire lifetime.  The list is long; the list is unimportant.
Zoe Evelyn lived a selfless life.  She was humble.  She was extraordinarily talented.  She retained a certain naiveté throughout her lifetime.  She nursed baby robins and baby opossums back to life and ferreted out pet iguanas lurking in the venetian blinds.  She dismantled faulty transistor radios, fixed them and put them back together again.  She saved Green Stamps and made homemade play dough.  She set her paintings out at the curb on trash day, only to be pilfered by the first passer-by.  Zoe was kind to all.  She was grateful.  She stepped up.  She gave a spoonful of brown sugar to help the medicine go down.  When, in a tiny church in Poplar, Montana, pregnant with her son, she sang a selection from The Messiah in her dark molasses voice, you could have heard a pin drop.  She was a child of the Dust Bowl, a child of The Great Depression.  She had grit.  She had faith.
After Smitty's death in 2015, Zoe Evelyn made one last move to David City, Nebraska, to be near her children.  She lived her last days under the care of the ever-kind, ever-loving staff of David Place and Tabitha Hospice.  Her family is eternally grateful for the unwavering care she received.
Zoe is preceded in death by her parents, William Robert and Alpha Gladys (Kilgore) Humphreys; her brother, William Howard Humphreys; her husband, Roy Maxell Smith, and her son, Shannon Paul Smith.  She is survived by her sister, Anna Ruth Benson; her daughter, Annette (Tim) Bailey; three nieces, four nephews, two granddaughters, two great-granddaughters and one great-grandson.