Rebecca Krejci, 50, of Lincoln, formerly of Schuyler, died Monday, November 20, 2023, at Old Cheney Rehabilitation in Lincoln.  She is the daughter of Ron and the late Dorothy (Trofholz) Krejci.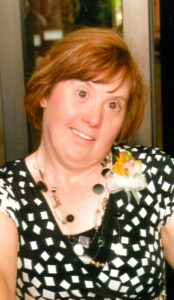 Funeral Service
Saturday, November 25, 2023  10:30 a.m.
Kracl Funeral Chapel, Schuyler, Nebraska,  Rev. Nathan Kroll
Visitation Saturday, November 25, 2023,  9:00 a.m. till time of service, all at the chapel
Committal in Schuyler Cemetery
Lunch following committal at the Schuyler Golf Club
Memorials to Youth for Christ-Lincoln Chapter
Rebecca Jean Krejci was born January 28, 1973, in Schuyler, to Ron and Dorothy (Trofholz) Krejci.  She moved to Lincoln in 1987 with her parents, where she attended Lefler Elementary School and  graduated from Lincoln High School in 1994.
Rebecca was born with special needs but never allowed her disability to limit her.  She was active in Special Olympics for many years, participating in basketball, bowling and track.  She was also very active in a variety of clubs and social organizations.  She volunteered her time with Meals on Wheels and at Tabitha.  She enjoyed her time at Farmers Mutual Insurance where she was employed for 20 years.
Rebecca loved her family and they loved her.  She was especially fond of her nieces and nephews.  In February of 2023, she lost her ability to walk.  John 5:3-9 is the story of the lame man being unable to walk, but when Jesus commanded him to pick up his mat and walk, he did.  Although there were many prayers for Rebecca to do the same, she never did here on earth.  We know when she arrives in heaven, she will be walking down the golden pavement, holding her mother and grandmothers' hands.  Thank You Jesus!
Rebecca is preceded in death by her mother and one niece.  She is survived by her father, Ron Krejci of Lincoln, brother Jeff (Tami) Krejci of Lincoln, sisters Rhonda (Terry) Novak of Schuyler, Joni (Steve) Winger of Yuma, Colorado and several nieces and nephews.