Ben Syring, 75, of Linwood, died as a result of a motor vehicle accident south of Schuyler, Tuesday, October 31, 2023.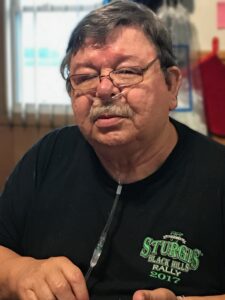 Rosary and Mass will be live streamed on Kracl Funeral Chapel Facebook page.
Mass of Christian Burial
Saturday, November 4, 2023  10:30 a.m.
Divine Mercy Parish, St. Mary's Catholic Church, Schuyler, Nebraska
Rev. Steve Emanuel Celebrant

Visitation Friday, November 3, 2023, 3:00 p.m. to 7:00 p.m. with a 7:00 p.m. parish rosary, all at Kracl Funeral Chapel, Schuyler
additional visitation Saturday, 9:00 a.m. to 10:00 a.m., at the chapel.
Committal with Military Honors, Schuyler, Cemetery, Schuyler, Nebraska
Lunch following in the parish hall
Memorials to the Colfax County Veterans Memorial in Schuyler
Ben was born October 24, 1948, in San Antonio, Texas, to Benjamin J. Syring, Sr. and Aurelia (Scheel) Syring.  He received his education in Texas.  On July 25, 1967, he joined the United States Marine Corp serving until July 24, 1973, including a tour of duty in Viet Nam. On July 11, 1970, Ben married Jean Fricke at Presentation Catholic Church, Marietta.  They lived and raised their family near Linwood.  Ben worked at Cargill for over 40 years and also operated H & B's Barbecue in Schuyler with his brother, Herb.   He was a member of Divine Mercy Parish, St. Augustine's Catholic Church in Schuyler.  Ben enjoyed hunting and fishing, making deer sausage and barbecuing, classic country music and spending time with his friends at the Senior Center in Schuyler.  Nothing was more important to Ben than spending time with his family.
Surviving Ben are his children: Karla (Chuck) Brezina, Bellwood, Andrea (Mike) Carey, Fullerton, Benjamin J.(Mary)  Syring, III of St. Paul, Nebraska, Father Andrew Syring of Linwood, adopted son Ramie Zastera, four sisters; Virginia Sanchez, Bernadette (Bob) Sullivent, Martha Syring and Mary Ellis, all of  Houston, Texas, four brothers; Arthur (Venia) Syring, Burlington, Kansas,  Stephen (Kathy) Syring and  Jerome Syring of San Antonio,  James (Patti) Syring, Houston,  11 grandchildren; Aleesha (Josh) Roehrs, Levi Syring and his fiance Rebecca Bentz, Jakob Syring, Caleb Brezina, Josiah Brezina, Alayna, Isaac and Brady Carey, Kelly, Raymond and Anthony Zastera.  He is also survived by three great-grandchildren; Rhett and Ellie Roehrs and Tatum Syring, two sisters-in-law, Barbara Syring of Bellwood and Brenda Syring of David City, In-laws JoAnn (John) Messing, Shelby, Teresa Fricke, Kansas City, MO, Marcia (Larry) Dittfurth, College Station, TX, Mary (Matt) Parker Harrison, Nebraska, Dan (Darcee) Fricke Lincoln, several nieces and nephews and his beloved dog, Chuey.
He was preceded in death by his parents, wife Jean in 1993,  in laws Ben and Arlene Fricke,  brothers Nicolaus (Patricia),  Herbert and Joseph Syring and an infant brother Anthony, a sister Angeline (David) Timmerman and granddaughter Stephanie Syring.