Marian C. Flynn, 89, died January 13, 2023, in Lawrence, Kansas.
Services Livestreamed on Kracl Funeral Chapel Facebook page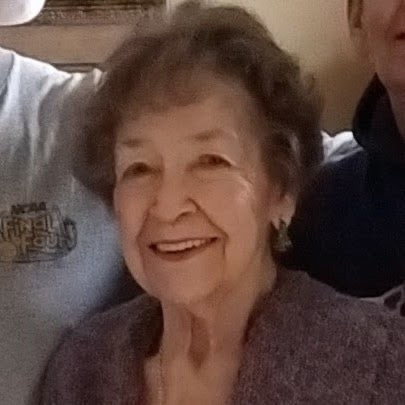 Mass of Christian Burial Saturday, January 28, 2023,  10:00 A.M.
Divine Mercy Parish-St. Augustine's Catholic Church, Schuyler
Visitation 9:00 A.M. with Rosary prayed at 9:30 A.M
Committal at Holy Cross Cemetery, Schuyler, Nebraska
Meal in the church hall following the committal
Marian (Shonka) Flynn, 89, passed away peacefully on January 13, 2023 in Lawrence, KS, surrounded by Julie (daughter) and John and Lucy, (son and daughter-in-law).
Marian was born November 3, 1933 to Milo and Christie Shonka in Schuyler, NE. She graduated from Schuyler High School, later working at the courthouse. She began dating Jim Flynn and after six months of dating, they were married June 22, 1955 at St. Augustine Catholic Church in Schuyler. They celebrated 60 years of marriage before Jim passed away.
They resided in Schuyler until moving to Lawrence, Kansas in 1995. Marian enjoyed watching sports, whether it be Jim's baseball games, her children's games or the Kansas Jayhawks. She loved to knit and was recruited to teach others. Marian loved baking and her 'horn' rolls will be greatly missed. She was a member of the St. Lawrence Catholic Center and enjoyed attending Bible study with friends. One of her greatest strengths was her faith which helped her through any trials and tribulations.
Jim and Marian had five children, Kathy, Jim III, Pat, Julie and John. She is survived by Kathy Flynn Deines married to Jerry Deines, Omaha, Julie, Lawrence and John and wife, Lucy Flynn, Lawrence. She had eight grandchildren, Courtney, Breann, Nealy, James, Jack, Kate, Matthew, and Molly. She had six great grandchildren. She was preceded in death by parents, Milo and Christie (Parolek) Shonka, Jim Jr.husband, and sons Jim III and Pat.