Wayne Arnold, 87, of David City, died Monday, January 16, 2023, at St. Joseph's Villa in David City.
IN LIEU OF FLOWERS, PLANTS AND STATUES MEMORIALS IN CARE OF THE FAMILY FOR FUTURE DESIGNATION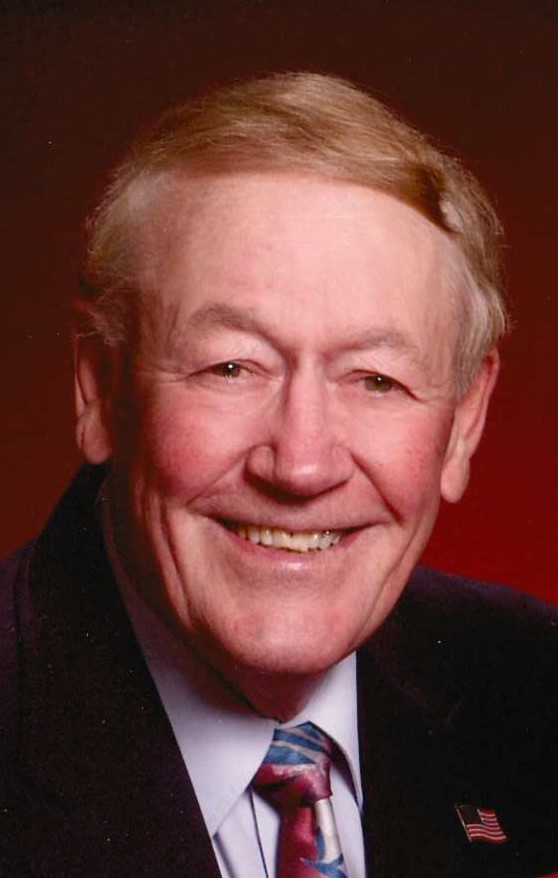 FUNERAL SERVICE LIVE STREAMED AT KRACL FUNERAL CHAPEL FACEBOOK PAGE
Funeral Service Saturday, January 21, 2023,  10:30 A.M.
St. Luke's United Methodist Church, David City  Rev. Daniel Spearow, Officiating
Visitation Saturday 9:30-10:30 A.M.  Lunch in church basement following committal
Committal with Military Honors at the David City Cemetery
Dad was Born in Grand Island, NE, in 1935. He was the oldest child of Bert and Clara Arnold. He grew up in Minden Nebraska where he enjoyed playing  sports and lifeguarding at the local pool. He watched over his family in every way that he could. He looked out  for his brother Dan and his little sister Patti.
As an outstanding high school athlete, Dad was selected to the Nebraska High School Hall of Fame. He played basketball for Coach Aldie Johnson's Minden Whippets. He was part of the  Dominant Dynasties teams of the 1950's.  After graduation he attended Hastings College where he was inducted into the Hastings College Football Hall of Fame and crowned homecoming king his senior year.
Dad was one of only handful of Nebraska high school coaches to win multiple state football championships at different schools. While at Wisner High school, he led them to multiple conference championships and the state championship in 1964.
While at Wisner, he met the love of his life Marilyn, also a teacher at Wisner. They were inseparable  for next 59 years.
In 1968,  Mike was born and the  family moved to David City. Dad became head football coach and taught history. Later he earned his Master's Degree from Wayne State College. In 1973, a second son, Jeff, was born and dad became David City's guidance counselor for the next 28 years.
Recently he was named to the Nebraska High School Sports Hall of fame for a second time, as the head football coach of the Golden Anniversary David City High School State Championship team of 1971.
During the summers dad enjoyed planting a large garden. He loved sharing a variety of veggies with others. He also enjoyed canning fresh tomatoes.
Dad enjoyed raising all sorts of animals in his free time. We had rabbits, pigeons, chinchillas, canaries and dachshunds in and out of the house.  Dad enjoyed going to auctions  about every weekend. One dad's treasure is another mom's junk.
Dad loved watching sports and activities. Dad and Mom followed and supported their boys throughout their entire high school and college careers. They never missed a game or an activity. They continued this support by watching their grandkids every chance they got.
Special thanks to our neighbors -Bella, Harlow, Tif and Dustin for all your help looking out for mom and dad. Especially the beautiful artwork that appeared on the porch and driveway, the kind notes and the suckers that dad so enjoyed!
He is survived by his wife, Marilyn of David City, two sons, Mike (Lucy) Arnold of La Vista and Jeff (Lori) Arnold of Springfield, a sister Patti (Larry) Nippert of Lincoln, five grandchildren; Caden and Evan (Emma) and Tessa Arnold, Brodin and Xander Arnold and sister-in-law Ruth Arnold of Ashland.  He was preceded in death by his parents and brother, Dan Arnold.