Alden Kment, 80, of Schuyler, died Sunday,January 22, 2023, at his home.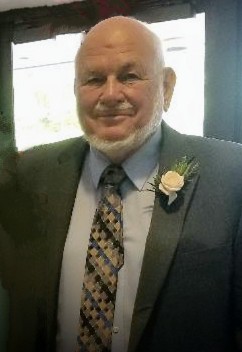 ALL OF ALDEN'S  SERVICES WILL BE HELD IN DAVID CITY
IN LIEU OF FLOWERS, PLANTS AND STATUES THE FAMILY REQUESTS MEMORIALS IN ALDEN'S MEMORY
Mass of Christian Burial Wednesday, January 25, 2023,  10:00 A.M.
St. Mary's Catholic Church, David City  Rev. Ben Holdren, Celebrant
Visitation Tuesday 4-7 P.M with 7 P.M. Rosary
Kracl Funeral Chapel David City
Visitation Wednesday 9-10:00 A.M. at the church in David City
Lunch immediately following Mass at the Butler County Event Center
Committal at Linwood Hill Cemetery, Linwood, Nebraska  1:00 P.M.
Memorials in care of the family for future designation
Alden was born March 11, 1942, in Columbus, Nebraska to Joe and Martha (Viglicky) Kment and attended area schools, graduating from Schuyler High School in 1960.  On February 19, 1966, he married Karen Kucera at the Marietta Catholic Church.  They lived in several cities, including Scottsbluff, North Platte, Grand Island and to Schuyler in 1977.  Alden attended school for the National Cash Register Company and worked for them for several years.  He then sold insurance for Farm Bureau and was currently employed at First State Insurance in David City.  He was a very active member of the Schuyler Knights of Columbus, the American Legion and Schuyler Eagles.  Alden was currently a member of St. Peter's Catholic Church in Bellwood.  Alden is a veteran of the United States Air Force.  Alden served 10 years on the Schuyler City Council.  In his spare time he enjoyed spending time with the family at their cabin on the river. All his life he continued to be a farm boy, fixing fences, butchering, helping with harvest and doing anything that needed to be done.  What he loved most of all were his grandsons, traveling, mini golf and fishing.  Grandpa rarely missed any of their sporting activities.  He also sat through one act plays, musicals, band concerts and FFA events.  even if he couldn't hear or understand, he was still there, and at the end of the day, when it was time to go, he always said, "need anything?"
He is survived by his wife, Karen and daughter, Charmyn  Chromy of Schuyler, son Scott (Rita) Kment of Beaver Crossing, Nebraska, six grandchildren; Cody (Charlotte) Dvorak, Matt (Ann) Dvorak, Sid Kment, Logan (Juli) Kment, Zach and Rylan Chromy. 3 great-grandchildren, Elise and Dane Dvorak and Levi Kment.  Also surviving are his five sisters;Marlene (Larry) Hartman, Irene (Mike) Starkey, JoAnn Colfack, Lorraine Moore and Sally Roh and four brothers; Richard (Fran) Kment, Arnold (Amy) Kment, David (Deb) Kment and Don (Paula) Kment.  He was preceded in death by his parents, Joe and Martha Kment, infant brother Joe Kment and brother-in-law Raymond Moore.