Dorothy Oltmer, 85, of Schuyler, died Saturday, May 1., 2021, at david place in David City.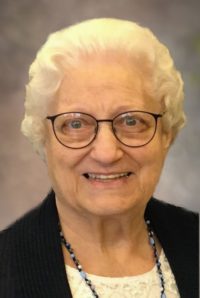 Funeral Service, Tuesday, May 4, 2021 11:00 a.m..
Kracl Funeral Chapel, Schuyler, Nebraska
Jerry L. Kracl Officiating
Visitation Tuesday before service 9:00 - 11:00 a.m.
Committal in the Schuyler Cemetery
Lunch following at the Schuyler Golf Club
Memorials in care of the family for future designation
Dorothy has a special place in the hearts of many, and has left us with memories to cherish.  Her excitement and care in creating memories with family and friends will be fondly remembered.
Dorothy Hashberger was born February 5, 1936, in Schuyler, NE, the third of five children to Cecil "Ed" and Margaret (Johnk) Hashberger and is known to many as "Sis." On June 1st, 1954, she was united in marriage to Laurn Walter Oltmer, and they made their home in Schuyler, parenting two children, Teresa, and Laurn, Jr.   They shared a marriage of 47 years before his passing in 2001.  In 2009, she moved to David City to live with her daughter and son-in-law.
At age 17, Dorothy started her extensive teaching career at rural schools in Colfax and Bulter Counties and created great experiences for her students.  After retiring, she used her teaching skills to instruct others in citizenship and ESL.  Dorothy was a member of the ADK organization of teachers.  She was a great believer in the importance of reading.
Dorothy loved entertaining and had food enough to feed an army.  Her kolaches, apple strudel, pork roast with sauerkraut and dumplings, and Grandma Hash's Spaghetti were always enjoyed.   Dorothy loved to give to others and holidays were a big affair, from gifts at Christmas to popcorn balls at Halloween.
Dorothy was a collector of piggy banks, and many of different shapes and sizes were found in her room over the years.  She had a great adventure to Australia in 2005.  She enjoyed gardening and having her hair fixed by Loretta Horner.
One of Dorothy's favorite pastimes was playing cards with family.  She also enjoyed Sudoku and crossword puzzles.
She is survived by her children, Teresa (Eugene) Andel of David City, NE; Laurn, Jr. (Kay) Oltmer of Indianola, NE,  her sister Patricia Miranda of Sierra Madre, CA,  grandchildren; Jenny, Ryan, Katie, Shawn, Adam, Eric, Laura, Matthew, Holli, Cara, and Bailey, 28 great-grandchildren, many other family members, former students, and friends.
She is preceded in death by her parents,  husband Laurn Oltmer and siblings; Billie Jean Hathaway, Ronald "Bud" Hashberger, and Richard Hashberger.
Thank you to all those that touched Dorothy's life in any way. May our void be filled with all our beautiful memories.
The family would like you to join them for lunch at the Schuyler Golf Club following the graveside service