Carolyn Korecky, 77, of Schuyler, died Monday, October 19, 2020,
at her home in Schuyler.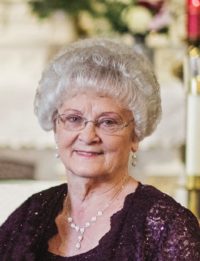 MASS WILL BE LIVE STREAMED ON KRACL FUNERAL CHAPEL FACEBOOK PAGE
MASKS AND SOCIAL DISTANCING REQUIRED FOR VISITATION AND MASS
Mass of Christian Burial Friday, October 23, 2020, 10:30 A.M.
Rev. Gerry Gonderinger, Celebrant
Divine Mercy Parish  St. Mary's Catholic Church, Schuyler, Nebraska
Visitation Thursday 5-7 P.M. with 7 P.M. Rosary for Knights of Columbus and Parish
Kracl Funeral Chapel,Schuyler, Nebraska
Visitation Friday 9:30-10:30 A.M. at the church
Committal in the Schuyler Cemetery     Lunch following at Schuyler Golf Club
Memorials in care of the family for future designation
Carolyn was born November 22, 1942, on the family farm near Clarkson, to Emil James and Delores Frances (Glodowski) Papousek.  She attended Clarkson Public School District #42-Macedonia School and graduated from Clarkson High School in 1961.  She worked at Moore's Department Store in Clarkson until she married Marvin James Korecky on January 22, 1963, at St. Mary's Catholic Church in Leigh. They made their home in Schuyler where they had two daughters, Kelly Ann and Kristine Kay.  Carolyn worked at Furtak's Department Store from 1963-1964, Becton Dickinson in Columbus from 1969-2008 and then became a paraprofessional substitute at Schuyler Elementary School from 2010-2012.  She enjoyed sewing, making Christmas tree skirts and stockings, collecting salt and pepper sets and exploring family genealogy.  Carolyn and Marvin spent years traveling across the country seeing the sights (their favorite being Branson) and camping at Gavin's Point.  Carolyn loved watching her grand-kids'  sporting and musical events and was especially proud of their college successes.  She was a member of Divine Mercy Parish Women, a CCD Teacher and B-D Alumni Member.  Carolyn will be remembered as a giving person who always put others above herself.  Her positive spirit and caring nature will be deeply missed.
Carolyn is survived by her husband, Marvin of Schuyler, daughters Kelly (Ricky) Greene of Lincoln and Kris (Tom) Svehla of Schuyler, a sister, Maryann Kasik of Columbus, brother Allyn (Karen) Papousek of Clarkson and sister-in-law Carol Papousek of Scribner.  She is also survived by five grandchildren; Corey (Diana) Svehla, Bennington, Shelby (Cole) Krejci, Schuyler, Hailey Greene of Lincoln, Sidney Svehla, Omaha,  Madison Greene of Lincoln and numerous nieces and nephews.  She was preceded in death by her parents, brother Jim Papousek, brother-in-law Bob Kasik and great-niece Khloe Papousek.