Frank Brabec, 77, of David City, died Monday, May 18, 2020, at his home south of David City.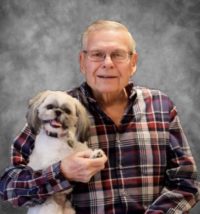 MASS WILL BE LIVE STREAMED ON KRACL FUNERAL CHAPEL FACEBOOK PAGE
Mass of Christian Burial
Thursday, May 21, 2020,  10:30 a.m.  St. Francis Catholic Church, Center
Rev. Sean Timmerman, Monsignor Adrian Herbek, Celebrants
Visitation Wednesday, May 20, 2020, 5:00 p.m. to 7:00 p.m.
Rosary 7:00 p.m. all at the church.
open to the public, social distancing rules apply, limited seating.
Committal in St. Francis Cemetery  with Military Rites by American Legion Post #125
Memorials in care of the family for future designation
Frank Bernard Brabec was born on Thursday, February 8, 1943 to Frank Rudolph Brabec and Martha Lavicky Brabec in David City, Nebraska.   At the age of 7, he was diagnosed with Polio and sent to Children's Hospital in Omaha.  He was in the first iron lung in Omaha where he remained for six months.  When he left the hospital, there was over 200 iron lung patients in his ward.  He graduated from the last class of St. Mary's High School in 1961.  After graduation, he joined the Army National Guard of Nebraska where he served with the 3rd Battalion 3rd Regiment at Ft. Leonard Wood, Missouri.  Shortly after basic training, his unit was activated during the Bay of Pigs Conflict while he served at Fort Carson, Colorado as a specialist fourth class 24 Medical Company (air ambulance).  Frank was honorably discharged then returned home to farm with his father.  Frank was united in marriage on June 23, 1972 to Mary Carolyn Mitchel from Arlington, Virginia.  Carloyn is the granddaughter of the late Dr. William F. and Teckla Gilmore, DDS.  To this union two children were born, Daniel Frank and Pamela Margaret.  Frank was a family man, a farmer, a woodworker and had a passion for creating and building anything and everything with his hands to perfection.
He was preceded in death by his parents, Frank and Martha Brabec, his parents-in-law John and Peggy Mitchel, sister-in-law Barbra Jane Mitchel.   Frank is survived by his wife Carolyn of David City, son Daniel of Ames, Iowa, Daughter Pamela (Nathan) Scott of David City, sister Kathy Brabec of Aurora, Colorado and the greatest joys of his life, grandsons Noah Frank and Maxwell Douglas Scott.