Donald R. McKelvey, 81, of Leigh, died Sunday, December 15, 2019, at Faith Regional Hospital in Norfolk.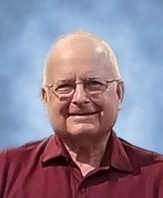 Funeral Service Friday, December 20, 2019   11:00 A.M.
St. John's Lutheran Church, Leigh   Reverend Samantha Nichols, Officiating
Visitation Thursday 4-6 P.M.  Friday 10-11:00 A.M.--All at the church
Lunch immediately following at the Leigh Fairgrounds
Memorials in care of the family for future designation
Memorial Service and committal at a later date in Cozad
Donald McKelvey was born December 7, 1938, in Cozad, Nebraska to Ted and Ada (Smith) McKelvey.  He graduated from Cozad High School in 1957.  On December 28, 1958, he married his high school sweetheart Shirley Potter, at the Church of God in Cozad.  They lived in Cozad until 1987, when they moved to Leigh.  Don was co-owner of F&S Sausage Company in Cozad. His sausage products were sold all over the Nebraska, Colorado, Iowa, and Kansas.  If you had hot dogs at any School system in south central Nebraska, it was probably Don's F&S Wieners.  He made state and national award-winning sausage products for over 60 years.  He also volunteered for 30 years on the Cozad Fire Department and was their Secretary/Treasurer.  In Leigh, he co-owned and operated Steve's Market and continued making sausage.   Don was a past member of the Parkview Methodist Church in Cozad and currently belonged to St. John's Lutheran in Leigh.  Don was fortunate to live to two great communities that he called home.  His strong work ethic, kind heart, and generous personality made him a special friend to just about everyone that met him. One of his greatest joys was being a Grandpa and Great Grandpa to both Steve and Scott's families.
He is survived by his wife, Shirley of Leigh, two sons; Steve (Jan) McKelvey, Leigh and Scott (Miechelle) McKelvey of Kearney, one brother, Keith (Luetta) McKelvey of Cozad, grandchildren; Hayden McKelvey (Kristina), Haylee McKelvey (fiancé Jordan Gustafson), Karlee McKelvey, and Collin McKelvey and one great-grandchild, Graham McKelvey and several beloved nephews and nieces.  He was preceded in death by his parents.