David Kracl, 80, of Omaha, died Wednesday, November 6, 2019, at his home in Omaha.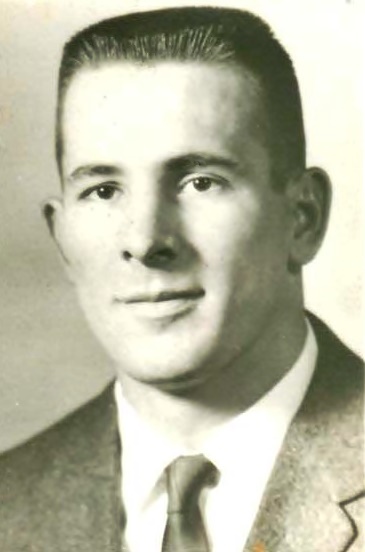 Open Casket Visitation

Saturday, November 9, 2019   2-4 P.M.
Kracl Funeral Chapel, Schuyler, Nebraska
Memorial Service

Saturday, November 16, 2019
11:00 A.M.
Schuyler Golf Club
Lunch to follow
David Lee Kracl was born April 19, 1939, in Schuyler, to Frank and Eloise (Hooper) Kracl.  He attended Schuyler Schools and graduated from Schuyler High School
 David, or Dave as many knew him, attended Wayne State University where he played football and track.  He had a great passion for all sports and was all state in high school athletics for football and track. Upon graduating from college, he followed his sisters to California to pursue a teaching career where his brother-in-law, Paul Foster, assisted in obtaining his first teaching position in Alameda California. It was in Alameda, CA where he first married and started his family, raising four children in San Leandro, CA. David had many accomplishments over the 80 years of his life. some of his proudest are his children, grandchildren, inventions, coaching, and working the 49ers NFL and Stanford chain crews. David Leaves legacy of love!  He loved all and forgave all. He had an eternal faith in God and his faith came first and was evident in all areas of his life. He felt lucky to have met Maryann and they were married in 2017.  She shared his same love for polka dancing and all things Nebraska. David loved his Bohemian music! Some would say he brought polka to California, especially on Tiburon Road where he raised his four children on his own with the help of close family and friends. The louder the music the better it sounds was his theory! David loved to learn. he was a mechanic, electrician, a plumber, a builder, a coach and all of these were self-taught.  everyone was a friend to Dave.  David had a sense of humor none could match! his children, grandchildren, and spouse will greatly miss him but David leaves his mark of faith, love, determination, service to others, forgiveness and an abiding love for God and his family!The spirit that David radiated will live on through his family. Nothing mattered more in this world to David then his children.
God be with you till we meet again Dad.
David is survived by his wife, Maryann of Omaha, his children Darin, Damon, Jennifer and Darolyn, their spouses and his grandchildren, four brothers, Buck, Douglas, Richard and Darrell Kracl and three sisters, Evelyn Kuwitsky, Marilyn Foster and Elayne Henry.  He was preceded in death by his parents, brothers Lavern, Marlin, Marvin and Jack Kracl, sisters Betty Kohout and Gladys Eckland and many other relatives.