Zdenka Uridil of Crawford, Nebraska, died August 23rd.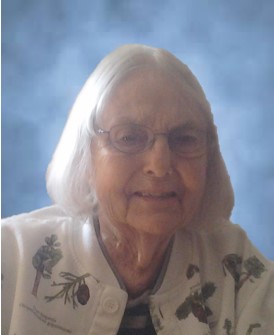 Visitation Tuesday, September 3, 2019   5-7 P.M.
Kracl Funeral Chapel, David City
Graveside Service Wednesday, September 4th 10:00 A.M.
Abie National Cemetery  Rev. Sarah Gengler, Officiating
Zdenka (Zee) Uridil was born to Joseph and Rose (Sedlacek) Zeleny on March 29, 1922 on a farm near Bruno, Nebraska. She died August 23, 2019 at the Ponderosa Villa, in Crawford , her home for the past 4 1/2 years.
She grew up in the Abie area and attended the Lincoln Beauty Academy to become a hairdresser.  She married Jerome Chester Uridil on September 4, 1948.  They had one daughter, Sandra Jo. Jerome was an installer for Western Electric, part of AT&T, and they lived in many Nebraska towns due to his work, along with doing a 6 month tour in New York City. They moved permanently to the Chadron area in 1968.
Having never finished high school, Zee began to work on her GED program and received her diploma in 1971. After her husband passed away in 1972, Zee began to work with the ABE/GED program, working with those working toward their GED diplomas, and also gave GED tests.  At age 49, Zee started her college career taking classes at CSC, Central Missouri State University, and graduating from Kansas State University with a Bachelor of Science Degree in Adult Education. Zee felt very proud of this achievement.
When Zee retired, she enjoyed her hobbies of photography, for which she won many awards, stamp collecting, and bird watching.  Zee felt she was blessed to live close to her grandson Robert, spending many hours playing with him, and enjoyed her extended family of step-grandchildren and their families, which provided her with great grandchildren, and a great-great grandson.  During her later years she also traveled to Czechoslovakia twice, and went to Alaska, once on a cruise, and once driving the Alaskan Highway, spending 7 weeks on the road.
Zee is survived by her daughter Sandra, grandson Robert, nephews and a niece and their families, and step-grandchildren and their families.  She was preceded in death by her husband, Jerome; her parents, Joseph and Rose Zeleny; her sister Vlasta Krivanek; and a nephew, Larry Dolezal.
Zee had seen many changes in her lifetime and often remarked that she thinks her years have been the best to be alive for.
In lieu of flowers, please make donations to: the Friends of Pets, Chadron; the Chadron Senior Center; and the Ponderosa Villa.