Maurice Flynn, 83, of Schuyler, died Tuesday, August 27, 2019, at St. Joseph's Villa in David City.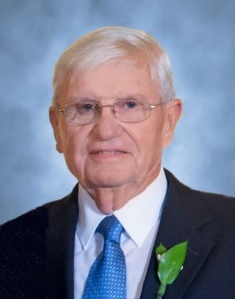 Mass of Christian Burial  Tuesday, September 3, 2019,  10:30 A.M.
Divine Mercy Parish-St. Augustine's Catholic Church
Rev. Gerry Gonderinger, Celebrant
Visitation Monday 5-7 P.M. with 7 P.M. Rosary for Knights and Parish
Visitation Tuesday 9-10:00 A.M.--all at Kracl Funeral Chapel
Committal in the Holy Cross Cemetery, Schuyler
Dinner following in St. Mary's Social Center

Memorials in care of the family for future designation
Maurice was born November 9, 1935, in Schuyler, to James H. "Harry" and June (Binder) Flynn.  He attended Schuyler Schools and graduated from Schuyler High.  He then went on to the University of Nebraska and received a Bachelors Degree in Agriculture.  On April 15, 1961, he married Anita Maresh at St. Wenceslaus Catholic Church in Dodge.  They lived in Schuyler where Maurice farmed and over the years was owner and operator of Flynn Hybrid Seed, Flynn and Rydel Lawn and Garden Center and JMJ Feed Mill.  After "retiring", he worked for Fleischer Manufacturing in Columbus.  He was a man of strong faith and a very devoted husband of 58 years.  He was a regular at the Arrow Inn coffee table and currently the coffee group at the Scalehouse.  Maurice enjoyed golf, walking and exercising and most of all time spent with the grandchildren.  He held season tickets to Big Red Football since 1963, had served on the Schuyler Board of Public Works for 40 years, belonged to the church and the Knights of Columbus and served in the United States Army Reserves.
Maurice is survived by his wife, Anita, of Schuyler, three daughters; Michele (Corey) Sindelar of Lincoln, Kelli (Hampton) Bargatze of Richmond, Virginia, Jacki Flynn of Papillion, three sons; Mark Flynn of Schuyler, Mike Flynn of Omaha and Steve (Amy) Flynn of Omaha, one sister, Mary (Webb) English of Saratoga Springs, New York, three sisters-in-law; Beth Flynn of Omaha, Marlene Flynn of San Diego and Marian Flynn of Lawrence, Kansas.  He is also survived by 14 grandchildren, 2 great-grandchildren and many nieces and nephews.  He was preceded in death by his parents, three brothers; James H. Flynn, Jr., Jack and Mick Flynn, grandson Michael Flynn,  three nephews; James H. Flynn III, Pat Flynn, John Maresh and a niece, Laura Flynn.