Dr. David K. Roberts, DDS, 81, of Lincoln, formerly of Schuyler, died Thursday, August 8, 2019 in Lincoln.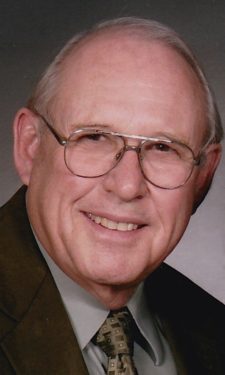 Funeral Service
Monday, August 12, 2019  10:30 a.m.
First Presbyterian Church, Schuyler, Nebraska
Rev. Sarah Gengler
Visitation Sunday, August 11, 2019
3:00 p.m. to 5 p.m. First Presbyterian Church
Masonic Service  5:00 p.m.

Visitation Monday one hour prior to services at the church
Memorials:  First Presbyterian Church or University of Nebraska College of Dentistry
Lunch immediately following the service, in the fellowship hall
Interment:  Monday afternoon at Fairbury Cemetery,  Fairbury, Nebraska
David Kent Roberts, DDS
Dr. David K. Roberts was born December 5, 1937, in Fairbury, Nebraska, to Russell and Mildred Roberts. He was the second of four children, between elder brother Rodney and younger siblings Tony and Leslie. The family lived in Fairbury, Omaha and South Sioux City before settling in Kearney in 1953. Dave graduated from Kearney High School where he played on the football team. He attended the Air Force Academy in Colorado Springs, Colorado, for several years then transferred to Kearney State College where he earned a bachelor degree and went on to the University of Nebraska College of Dentistry, earning his DDS in 1967.
In 1964 Dave married Maxine "Micki" McVay, meeting on a blind date on New Year's Eve and getting engaged two months later. They enjoyed living among a circle of friends in Lincoln's Huskerville as Dave completed dental school. They moved to Minden, Nebraska, in 1967 where Dave opened his first dental practice. Dave and Micki welcomed daughter Rebecca in 1967 and son Matthew in 1970. Dave was proud of portraying Joseph for several years in Minden's annual Christmas pageant.
In 1976 the family moved to Lexington, Nebraska, where Dave practiced family dentistry for 13 years. Their time in Lexington was filled with involvement in First Presbyterian Church where Dave was an elder and a member of the choir, particularly enjoying singing Handel's "Messiah" in the annual Easter cantata. He also played a leadership role in Lexington's Plum Creek Area Barbershop Chorus and several quartets, winning awards at competitions several times over the years.
Dave made his first attempt at retirement in 1989, when he and Micki moved to Omaha. He worked part time as a dentist at Offutt Air Force Base while enjoying Monday night jazz at Trovato's and friendships at North Omaha airport.
Retirement and city life soon bored Dave, however. In 1992 he and Micki moved to Schuyler, Nebraska where they enjoyed 27 wonderful years in a close-knit community of friends. Dave was proud to be the only full-time dentist living in Schuyler until his retirement in 2006. He was an active member of Schuyler's First Presbyterian Church, serving as elder and deacon and member of the church choir. He was also an active member of Acacia Lodge 34 AF&AM Masonic Temple, Sesostris Shrine and Schuyler Rotary. He served on Schuyler's Planning Commission for many years. He greatly enjoyed weekly dinners with his Friday Night Club; morning bull sessions with the Coffee Dawgs; and shooting the breeze after soaring the skies from Columbus Municipal Airport.
Flying was Dave's greatest passion. His 1954 Piper Tri Pacer, 8118Charlie, was perhaps his most cherished friend of 35 years, logging 150,000 miles together. Dave was a longtime member of the Experimental Aircraft Association (EAA), attending the annual international fly-in at Oshkosh, Wisconsin, with 500,000 other pilots and fans, annually for over 30 years.
Jazz was Dave's other great passion. He amassed a vast collection of Dixieland and big band records and had a special love of Count Basie; Micki and Dave danced several times to live performances of the Count Basie Orchestra, including a stop in Gothenburg, Nebraska. Dave and Micki enjoyed traveling with his brother Rod and wife Ruth Ann to jazz festivals in Colorado and Iowa, and made several trips to Denver over the decades to see the Queen City Jazz Band.
Dear and lifelong friendships were deeply important to Dave, particularly his friendship since dental school with Dr. Steve Dokken and Dr. John Williams, cemented with good times living in the Huskerville complex of married student housing while attending dental school.
Dave and Micki would have celebrated their 55th wedding anniversary on Aug. 30, 2019.
Survivors include his wife, Micki; son and daughter-in-law, Matt and Paige Roberts of Lincoln; daughter, Becki Roberts of Lincoln; grandchildren, Emerson, Charles and Ryan; sister and brother-in-law, Leslie and Cary Lee of Gypsum, Colo.; brother-in-law and sister-in-law, Mike and Terry McVay of Gothenburg; nieces and nephews. He was preceded in death by his parents, Russell and Mildred; and his brothers, Rodney and Anthony.