Marie C. (Dehner) Biondo, 91, of Fullerton, California, died Monday, May 13, 2019 in Fullerton, California.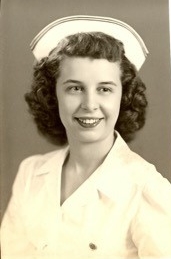 Mass of Christian Burial   Friday, May 24, 2019  10:00 a.m.
Rev. Jay Buhman, Celebrant
St. Mary's Catholic Church, David City, Nebraska
Visitation Friday 9:00 a.m. with a Rosary at 9:30 a.m., at the church
Committal St. Mary's Cemetery, David City
Memorials to St. Mary's Catholic Church.
Marie Catherine Dehner was born on January 11, 1928 in Butler County, Nebraska.  She was the eldest of five children born to Mary and Henry Dehner. She graduated from Dwight Assumption High School and St. Elizabeth Hospital School of Nursing in Lincoln.
Marie's beloved vocation as a registered nurse took her to a variety of work settings.  She cared for patients in a doctor's office, and in a hospital in Lincoln, NE; she worked as an industrial health nurse, caring for employees who were injured on the job and established work safety practices at Hormel Foods in Fremont, NE and Hunt-Wesson/ConAgra in Fullerton, CA.  She also spent some time working as a school nurse. As a public health nurse for Lancaster County, NE in the 1970's, Marie drove a Winnebego - a mobile clinic-on-wheels - to rural areas providing wellness checks and other care for her patients.
Her work as a nurse also took her to other countries.  In 1960, responding to an ad in a U.S. State Department publication,  Marie joined the U.S. Foreign Service and was assigned to the medical office of the recently established U.S. Embassy in Khartoum, Sudan, where she met her future husband, Giorgio Biondo.
Marie and Giorgio were married in Milan, Italy in 1963.  Two years later the couple and their infant daughter moved to Lincoln, Nebraska; their son was born in 1967.  In the mid-70's the family relocated to Cairo, Egypt and there Marie made a home with her family and also impressively mastered driving the busy streets of Cairo!  In 1978 the family moved to Athens, Greece. While living abroad Marie happily returned to her nursing career with the U.S. Foreign Service and became a much-called-upon substitute nurse at the U.S. Embassies of both Egypt and Greece.
In 1982 Marie and family returned to the U.S. and settled in Southern California.  She retired in 1997.
Marie was a kind, loving and selfless person; always calm and steady, she excelled at finding the goodness around her.  She could make most any joke-teller feel they had hit a home-run. She loved and was devoted to her Nebraska roots; she remained a Cornhusker fan, no matter her zip code or country code.  Marie cherished her large, extended family and relished their time together.
Marie was an accomplished seamstress and loved to crochet.  For most of her life she planted a garden, however large or small the patch of earth she found to tend.  Marie was a life-long learner, in her retirement she enthusiastically took up quilting as a hobby and mastered the basics of using a computer.
Marie is survived by her husband, Giorgio; daughter Diana (Pete May); and son John; grandchildren Ella, Hugo, Giancarlo and Giorgio; brother John Dehner (Barb); and sister Sr. Eileen Dehner, as well as many nieces and nephews and their families.  She was preceded in death by her parents, a brother Donald Joseph and a sister, Lucille and brother-in-law, Harley Eickmeier.