John Klosterman, 86, of David City, died Saturday, January 7, 2023, at his home in David City.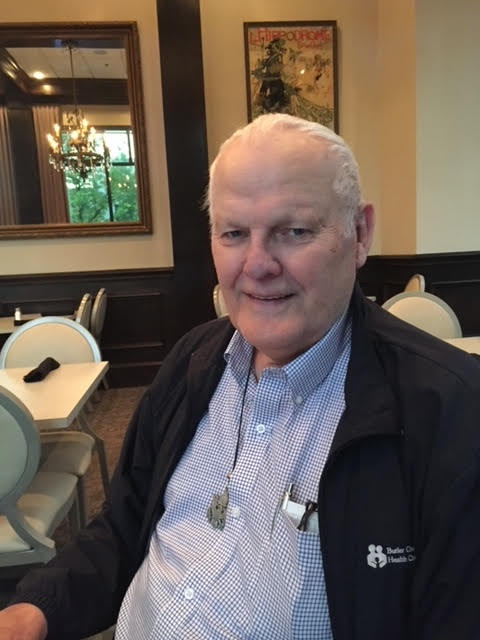 A Celebration of John's Life  Sunday, January 22, 2023
Butler County Fairground Event Center
Signing of the Register Book and visitation with family  11:00 A.M.
Lunch will be served at noon
Program of Memories will be held at 1:00 P.M.
Memorials suggested to the Butler County Healthcare Foundation or University of Nebraska Foundation in Honor of John Klosterman
John C. Klosterman of David City, a farmer, cattle feeder, conservationist, banker and industry and civic leader, as well as a devoted husband, father and grandfather, passed away Saturday, Jan. 7, 2023.
John was born in David City on Jan. 22, 1936, and attended country school and high school in David City, graduating in 1953. He continued his education at Doane College in Crete, where he received a bachelor's degree in mathematics and physics in 1958. He joined the Navy in 1958, serving five years on active duty and achieving the rank of lieutenant and was honorably discharged in 1969. John was extremely proud of his service to the United States and was a proud member of the Dwight Legion Post 110. John was the chairman of Grass Valley Farms, a sixth generation farm and feed yard in David City.
He married Beth Wilson on Aug. 19, 1959, and the couple settled in David City. They had three children – Anna, Margaret, and Jack. John loved his family above all else, and he and Beth enjoyed traveling with their children and later their grandchildren, taking them on trips to museums, historical sites, zoos and many restaurants.
John farmed and raised cattle, and served as a strong member of the Nebraska banking community. His service included President and Chairman of the Board of First National Bank of David City and as a director of FirsTier Bank in Lincoln. But his true passion was agriculture, and he spent countless hours working to promote and strengthen agriculture in both Nebraska and across the United States.He held numerous positions within the Butler County Livestock Feeders and the Nebraska Livestock Feeders associations, including president of both organizations. Throughout the 1970s, he held various roles in the National Cattlemen's Association. Later, he became a member of the Nebraska Feedlot Council. During his time on the Nebraska Feedlot Council, he spearheaded a committee that resulted in the merger of the council and two other state cattle producer advocacy groups into the Nebraska Cattlemen. John served as the first president of the Nebraska Cattlemen in 1988-89. He also was active in ag advocacy groups Ag 40 and Agricultural Builders of Nebraska, serving as president of both at various times over the years.John and Beth were active supporters of the University of Nebraska-Lincoln, especially of its Institute of Agriculture and Natural Resources (IANR). John was instrumental in the formation of IANR in 1973, and later, he co-chaired a successful fundraising effort to build the Animal Science Complex on UNL's East Campus. He and Beth were generous financial supporters of IANR, including the Klosterman Feedlot Innovation Center, which is currently under construction at the Eastern Nebraska Research, Extension and Education Center near Mead.
John cared deeply for his community and worked hard to make it better for his children and grandchildren. He was part of many boards and organizations over the years, but was most passionate about his work to support and improve area medical services. He lead the successful effort to fund and build the Butler County Hospital (1973) and Wellness Center (1987) and served as chairman of the Butler County Health Care Center Board of Trustees from 1971-2015.
He also served on the board of directors of the Future Generations Health Care Foundation in David City.
John was honored by the UNL Block & Bridle Club in 1989; inducted into the Nebraska Hall of Agricultural Achievement in 1990; and named Nebraska Cattleman of the Year by the Nebraska Cattlemen in 1990. He also received the Nebraska Rural Health Association Outstanding Rural Healthcare Award in 1999 and the David City Founding Fathers Award in 2010, among many other awards and honors.
Throughout his life, he and Beth loved to travel, and took many trips to Texas. He also was a very accomplished woodworker and he loved creating special pieces for family and friends.
John was preceded in death by his parents, Henry and Oda Klosterman and sister, Jane Klosterman.
He is survived by his wife Beth Klosterman, daughters Anna Katherine Baker of Florida, and her children Jordan Baker, Ellen Pearson (Shayne), and Katherine Baker; Meg Klosterman Kester (Ken) of Lincoln and their children Jacob Kester, Jed Kester, Molly Clinkscales (Jeff), and Liz Gallardo (Guillermo); and son John C. Klosterman III of David City (Julie) and children Elise Brown (Adam), Henry Klosterman (Molly), Mary Klosterman, and Caitlin Sutter (Will) as well as great-grandchildren Samuel Kester, Eloise and Avery Brown; Royce, Walt, and Ida Klosterman, and Jack Sutter. He is also survived by sisters Katherine Ratiner of Silver Springs, MD and Ann Klosterman of Golden, CO. His life was an example of service and thoughtfulness his family strives to follow.
 Arrangements  with Kracl Funeral Chapel in David City
www.revbluejeans.com