Chuck Scheuneman, 84, of Columbus, died Friday, December 10, 2021, at Brookstone Acres in Columbus.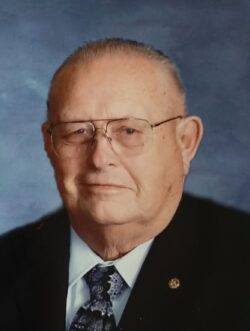 The Funeral Service will be live streamed on Kracl Funeral Chapel Facebook Page
Funeral Service Wednesday, December 15, 2021,  11:00 A.M.
First Presbyterian Church, Schuyler   Rev. Sarah Gengler, Officiating
Visitation Tuesday 5-7 P.M.  Kracl Funeral Chapel, Schuyler
Visitation Wednesday 10-11:00 A.M. at the church
Committal in the Schuyler Cemetery
Memorials in care of the family for future designation
Charles Rodney Scheuneman was born February 26, 1937, in Wahoo, Nebraska to John and Greta (Norenburg) Scheuneman.  He attended and graduated from District #109 grade school at Swedeburg.  He was confirmed at the Mission Covenant Church in Swedeburg and attended and graduated from Ceresco High School.  He then attended Milford Trade School, now known as Southeast Community College.  Upon graduation in 1956 he worked for Nebraska Tractor and Equipment Co. in Omaha.  His job included mechanic, Serviceman, Traveling Resident Salesman and finally Salesman.  In June of 1958 he married Patricia Teeple in Omaha.  To this union three children were born; Terry, Marjorie and Laurie.  In 1965 he and Pat flew to California and drove a street sweeper back to Nebraska on Route 66 and Highway 81, before the days of the Interstate System.  This was the beginning of Midwest Service and Sales Company.  For the next 15 years he swept streets and parking lots in eastern Nebraska.  In 1980 he sold the sweeper business and continued in his expanded business of selling items needed by counties, townships and cities.  In March of 2004, Chuck was in an accident, falling off a crane Midwest Service and Sales had just purchased, resulting in a broken back and head injuries.  He was hospitalized for six months at Bryan East and Madonna Rehabilitation Hospital in Lincoln.
Charles was a Mason and Shriner and had served on church councils at Evangelical Brethern Church in Ithaca, Trinity Lutheran Church in Columbus and the Session of First Presbyterian Church of Schuyler during the time the new church was built.  He also had served on the School Board of Richland District #1 and the Civil Service Commission in Schuyler.  In 2012 he and Pat moved to Meridian Gardens Assisted Living in Columbus.
Chuck is survived by his wife, Patricia of Columbus, son Terry (Jeanne) Scheuneman of Schuyler, daughters Marjorie Heier of Sioux Falls, South Dakota,Laurie Schlitt of Lincoln, grandchildren Heidi (Robert) Schimonitz, Andrew Mellor, Grant Mellor, Wendi Mellor, Victoria (Blaine) Anderson,, Brian Schlitt, great-grandchildren,Kylie Anderson, Brynn and Sawyer Schimonitz and a sister-in-law, Connie Scheuneman of Henderson, North Carolina.  He was preceded in death by his parents, brothers Allen Scheuneman and Jesse (Ina) Scheuneman.