Gordon Fuhr, 92, of Leigh, died Monday, April 12, 2021, at the Columbus Community Hospital in Columbus, surrounded by his family.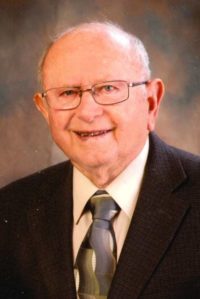 Funeral service will be live streamed on Kracl Funeral Chapel Facebook page
Funeral Service Thursday April 15, 2021  10:30 A.M.
St. John's Lutheran Church, Leigh, Nebraska
Visitation Wednesday 4-7 P.M. Thursday 9:30 -10:30 A.M.
All services will be at the church
Committal in the Leigh Cemetery
In lieu of flowers memorials to the church, Leigh Legacy Fund or family choice
A lunch will be served in the church basement following the committal
MASKS ARE ENCOURAGED BY NOT REQUIRED FOR VISITATION AND FUNERAL
Gordon Edwin Fuhr, son of Adam and Daisy (Sayers) Fuhr, was born on July 20, 1928, at his family farm.  When 2 years old, his family moved to a farm northwest of Leigh, where he grew up, attended school, at Hill Siding School, entered Leigh High School, and helped his father on the farm.  It was necessary for him to quit school for a year when his brother went to service, but he went back with his mother's encouragement, and graduated in 1947.   Along with his farming work, he hauled many truckloads of cattle to the Omaha stockyards to be sold.
He married his high school sweetheart, Norma Neuhaus on June 9, 1949 at St. John's Lutheran Church at Leigh.  After living with his brother and wife for a short time, they moved to a farm 2 miles east of Leigh.  This was to be their home until they retired in 2003, when their family assisted them with a renovation and move into Leigh.  They celebrated their 71st Anniversary this past year.
Gordon joined St. John's Lutheran Church on May 23, 1948, when he became a baptized member.  He served on St. John's Church Council, several church committees, and was Luther League sponsor with his wife.  He enjoyed being Leigh City Park Board Chairman and earlier was instrumental in the horseshoe court and playground equipment.   He was a board member of the Leigh Area Foundation, Farmer's Union Co-op, Macedonia School Board, and also a member of several agricultural organizations.
Farming was Gordon's fulltime occupation, but he also held curiosity about our country.  He enjoyed traveling, starting with a home-made camper and tent, as their family grew.  Campfires were a must, also fishing and the mountains.  For about 20 years, in later life, the couple traveled by motorhome to visit friends and relatives in Texas. Gordon also enjoyed motorcycling with his riding buddies, traveling in over 14 states.  He became interested in horseshoe pitching, attending many local, state, and even 10 world tournaments.  He was awarded many trophies including 5 state championships and 1 world.  He valued many new friends.  In his quiet hours, he took up wood carving and came to enjoy it, creating a small gift for each member of his family who were always his greatest joy and concern.
Gordon enjoyed his family.  Even though he worked hard, there was time for play, and each year there was always time to take a short family vacation.  Working or playing, hunting or fishing, time together was important, and so it remained as the family grew with each generation.
Gordon is survived by his wife, Norma, children:  Larry Gordon , Calvin Herman (Susan), Pamela Faye (John) Dinneen
Grandchildren:  Dave (Tonya) Fuhr, Rev Jennifer (Scott)Hall, Kimberly (Scott) Sucha, Melissa (Dustin) Brabec, John (Victoria) Dinneen, Kristen (Andrew) Sievert, Matthew Dinneen (fiance' Alexa Kasl)
Great Grandchildren:  Jeremy (Tia) Fuhr, Elizabeth (Chris) Claren, Shelby Fuhr, Abbi Brabec, Natalie Brabec, Adam Sucha, Annelise Dinneen, Aubrey, Liam & Myles Sievert,  Great Great grandchildren  Chas and Thatcher, Ryker and Baylor.
Many nieces, nephews and cousins.
He was preceded in death by his daughter-in-law, Janice Fuhr, parents Adam & Daisy Fuhr, Sister and brother-in-law Ethel & Fred Severin, Brothers & Sisters-in-law Bill & Emily Fuhr, Earl & Libbie Fuhr, Raymond & Adella Fuhr.