Adrian Tomek, 89, of Schuyler, died Monday, March 29, 2021, at Windcrest Assisted Living in Lincoln.
00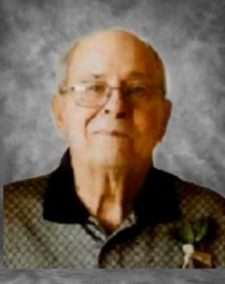 Funeral Service Tuesday, April 6, 2021   10:30 A.M.
Kracl Funeral Chapel, Schuyler  Jerry L. Kracl, Officiating
Visitation Monday 5-7 P.M.  Tuesday 9-10:30 A.M.
Committal with Military Honors-Schuyler Cemetery
Memorials in care of the family
Adrian was born March 5, 1932, on the family farm near Abie to John L. and Olga (Coufal) Tomek.  He attended area schools and graduated from high school in David City in 1950.  On February 20, 1952, he married Willette Sima at St. Anthony's Catholic Church in Bruno. Adrian then served in the United States Army from 1953-1955 and was stationed in Anchorage, Alaska.  Following his honorable discharge they lived in Omaha where Adrian worked as a fuel handler for United Airlines.  He and Willette then moved to Schuyler where he worked for Muller Dairy, Young and Hay Transfer , Spencer Beef and Excel, until retiring.
Adrian enjoyed flowers, gardening and sharing the "fruits of his labors" with family and friends.  His love of nature included a love of fishing and feeding the squirrels and birds, a hobby he passed on to his children and grandchildren.  Each spring he would put up  Martin houses, watching them raise their families.  He had also coached little league baseball and was an avid animal lover.  Adrian will be remembered by his family for eating his breakfast of toast and peanut butter and his love of kolaches and polka music.
Adrian is survived by four children; Susan (John) Kucera, Hampstead, Maryland,  Patti (Larry) Wennekamp, Schuyler, Mike Tomek of Lincoln and Tim Tomek of Omaha, eight grandchildren; Chelsea Kucera, Justin (Keely) Wennekamp, Clayton (Rachael) Wennekamp, Katey (Levi) Stork, London Tomek, Jeremy (Amy) Kucera, Chad (Tracy) Kucera and James (Heather) Kucera.  Also surviving are 21 great-grandchildren and his beloved dog Corky.
He was preceded in death by his parents, John L. (1971), Olga (1998) wife Willette (2012) and two grandsons, Mitchell Tomek (2008) and Trey Tomek. (1997)