Sharon Evert, 79, of Schuyler, died Thursday, July 30, 2020, at Brookstone Acres in Columbus.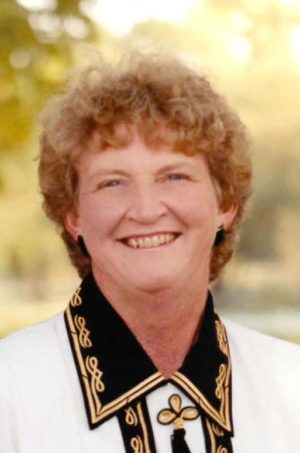 MASS WILL BE LIVE STREAMED ON KRACL FUNERAL CHAPEL FACEBOOK PAGE
Mass of Christian Burial Wednesday, August 5, 2020  10:30 A.M.
Divine Mercy Parish-St. Augustine's Catholic Church-  Rev. Gerry Gonderinger, Celebrant
Visitation Tuesday 4-7 P.M. with 7 P.M. Rosary-Kracl Funeral Chapel, Schuyler
Visitation Wednesday 9:30-10:30 A.M. at the church
Committal in the Schuyler Cemetery
Memorials in care of the family for future designation
Covid Restrictions Apply
Sharon ("Shari") Rose Evert (named after the "Rose of Sharon") was born March 13, 1941, in Columbus, Nebraska, to Bernard and Irene (Adams) Bayer. Sharon lived her entire life in Schuyler, attending Schuyler schools and graduating from Schuyler High School in 1959. On June 20, 1959, she married Melvin J. Evert at Olean Catholic Church, rural Dodge, Nebraska.
When Sharon was six years old, and her sister, Janet, was two, her father died. Her mother later remarried and eventually Sharon also had two half-sisters, Kay and Dawn. Sharon, who was in her teen years when her younger sisters were born, served as a second mother to them. Sharon often told stories of the many neighborhood friends she shared time with, spending many hours playing "chalk the rabbit" and other games, always the oldest among them, always a kind friend to everyone. As a young person, she had many fond memories of working at the "Top Notch" restaurant in Schuyler, for which she was received 10 cents an hour (plus tips!). She learned to play piano, practicing an hour every day under the strict tutelage of her grandmother, and also learned to play the button accordion and clarinet, later serving as the drum major in the high school band. Sharon was always at the top of her class, loved reading, music and poetry, and excelled at all trivia games.
During her early marriage, Sharon and Mel ran the "Parkway Drive-In", a hamburger and ice cream shop, which was at that time, the hangout for all of the local young people in Schuyler. Dozens of young people worked as "car hops" for them over the years, and Sharon was a kind friend, mentor and second mother to many of them. After they sold the "Drive-In", Sharon worked with Mel in operating a custom haying business, windrowing alfalfa, while Mel baled. Later they farmed together north of Schuyler on the Herde farm, and Sharon spent many hours, working as hard as any man in the fields and for long hours. In later years, she also worked for several years as a cook at the Schuyler Nursing Center, and in housekeeping at the St. Benedict Center. After retirement, she continued to stay active by volunteering at the St. Benedict Center,  the Schuyler Senior Center and was very active and committed to the CHI Hospital Auxiliary, until she became ill only a few months before her death.
Sharon and Mel welcomed three daughters into their lives, Renee, Sandy and Vicki, and Sharon became a mother of her own. She instilled in her children her own, strong work ethic, sense of decency and kindness to others. Sharon and Mel had many local friends with whom they spent many Saturday nights playing card games for long hours, and with whom they made many fishing trips to Minnesota and Canada. Following Mel's death, Sharon also traveled to Europe, Alaska, New York, and many other parts of the country, which she truly enjoyed. Sharon was a member of numerous card clubs, and made many, many friends while doing so, all of whom she deeply cherished.
When her children had children, she became a grandmother, once again becoming a second mother to young people, spending many hours with them after school, and at other times, always with a deck of cards, UNO and the croquet set close by. She had a special place in her heart for each of them, and cherished the time she spent with them, attending all of their ball games and band concerts, plays and musicals and dance recitals. She loved her grandchildren dearly.
She always had a smile. She was always glad to hear your voice when you called. She always made time for her family and friends, in big ways and small ways, and loved her country dearly. Sharon is survived by her three daughters, Renee (Dennis) Novacek (David City), and their sons, Mitch Novacek (David City) and Kyle (Karlee) Novacek (Lincoln); Sandra (Ron) Christo (Albion), and Sandy's children, Rebecca (Jason) Connerley (Lexington, South Carolina), and Jesse (Faith) Brichacek (Columbus); and Victoria (Lee) Faltys (Giltner), and their children, Kalib and Zachary (both of Lincoln), and Sophie (Giltner); four great-grandchildren, Jett Connerley, Carmyn Connerley, Raelea Brichacek and Mavrik Brichacek; sisters, Janet (Larry) Quist (Raleigh, North Carolina), Kay (Terry) Mulford (Fremont), and Dawn Holtz (Fernley, Nevada); sisters-in-law, Marilyn (Edward) Jedlicka, (Fremont), Lavonne Evert (Land O'Lakes, Florida); Carol (Eugene) Jedlicka (Wahoo), brother-in-law Duane (Estelle) Evert (Stockbridge, Georgia), four step-grandchildren, five step great-grandchildren, many nieces, nephews and other relatives, and many, many friends, including her BFF, Maxine.
She was preceded in death by her husband, Mel, her parents, her beloved uncle, Glen Adams, and a stillborn infant son. She will be greatly missed.