Donna Rose Ostry, 81, of Bruno, died Wednesday, November 20, 2019, at Bryan LGH East in Lincoln.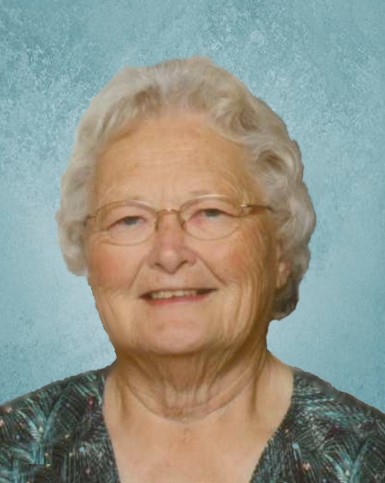 Mass of Christian Burial  Monday November 25, 2019  10:00 A.M.
St. Anthony's Catholic Church, Bruno   Celebrant Rev. Ron Homes
Visitation Sunday 4-6 P.M. with 6 P.M. Rosary-at the church
Visitation Monday 9-10:00 A.M. at the church
Committal in the Bruno National Cemetery
Lunch following in the church hall
Memorials may be given to the donor's choice
Donna Rose Ostry was born May 13, 1938 in Prague, NE to Rudolph and Helen (Kaspar) Mach. She graduated from Prague High School in 1956.
On September 13, 1960, she was united in marriage to Herman Ostry at St. John's Catholic Church in Prague. They lived on a farm north of Bruno. Seven children were born to this union.
Donna's cooking was extraordinary. Her grandchildren especially enjoyed her kolaches, rolls, dumplings, and famous maple twist. Besides running the household, Donna served on the Bruno Public School Board and was an Election Day volunteer for many years. She was involved in the Butler County Czechs, the ZCBJ Lodge, Catholic Workman, and the St. Anthony's PCCW. In her free time, Donna enjoyed doing crossword puzzles and listening to Czech music.
Donna is survived by her loving husband, Herman, and her children: Michael (Karen) Ostry of Bruno, John (Cindy) Ostry of Nickerson, James (Linda) Ostry of Bruno, Theresa (David) Novak of Howells, Christine (Craig) Dvorak of Clarkson, Lori (Dale) Focher of Bruno, and Deanne (Shane) Johnson of Columbus; 21 grandchildren, and 7 great-grandchildren as well as her sisters Mary Ann Polivka of Lincoln and Irma Wilt of Omaha.
She is preceded in death by her parents and great-grand child Anna Maria Dressman.
Grandchildren and Great-Grandchildren:
Mike's family:Matthew Ostry; Louis Ostry; Angelica (Clayton) Callens – Rowland, Ambrose, Dante; Cecilia (Jared) Dressman – Joachim, Mariam; Maria Ostry; Helena Ostry; Anthony Ostry; Gerard Ostry; Lydia Ostry; Gabriella Ostry; Carl Ostry
John's family:Janelle (Terrance) Steinhart – Eden; Caitlyn Ostry
Theresa's family:Bryan Novak; Sarah (Tyler) Oligmueller – Grace; Seth Novak
Chris' family:Nathan Jedlicka; Megan Jedlicka; Cara Dvorak
Lori's family:Bethany Focher; Zane Focher