Joan Bideaux, 89, of Schuyler, died Saturday, October 5, 2019, at Columbus Care and Rehabilitation.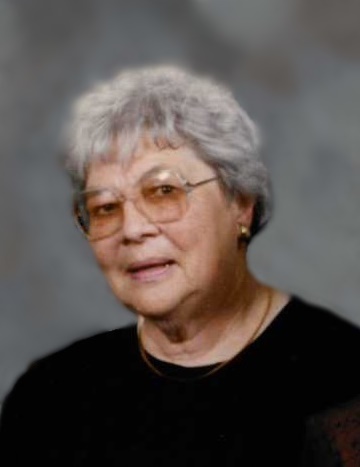 Mass of Christian Burial  Wednesday, October 9, 2019 10:30 A.M.
Divine Mercy Parish  St. Augustine's Catholic Church, Schuyler
Visitation Tuesday 4-7 with 7 P.M. Rosary-Kracl Funeral Chapel
Visitation Wednesday 8:30-10 A.M. also at the chapel
Committal in the Holy Cross Cemetery, Schuyler
Dinner following in the church hall
Mary Joan Stotts Bideaux was born in Cody, Nebraska on June 5, 1930 to Fred and Mary Stotts.
She went to school in Cody and attended Duchesne College in Omaha where she met Alex. They were married in Valentine on June 28, 1949. Joan held the Sandhills close to her heart but her adopted town of Schuyler was her home where she raised five children with Alex. She loved her friends and her church, but most of all her family.
Joan worked at several family businesses over the years. She also served on the Schuyler City Council and managed the Oak Ballroom. Joan loved to read and play bridge. She took care of Alex when he was ill until his death in 2004. Joan and Alex were very proud of their grandchildren and hosted regular family celebrations. She is survived by five children, Mary Virginia (Rod) Kastner of Walnut Creek, Calif, Mary Kathryn (Roger) Draper of Omaha, Ne, Mike (Julie) Bideaux and Mary Ellen (Bob) Faltys of Schuyler, and Matt (Patty) Bideaux of Lincoln, Ne. Joan will be missed by eleven grandchildren and eleven great-grandchildren.  She was preceded in death by her parents, husband Alex and one sister, Katherine Theiler.
Memorials may be directed for family wishes.