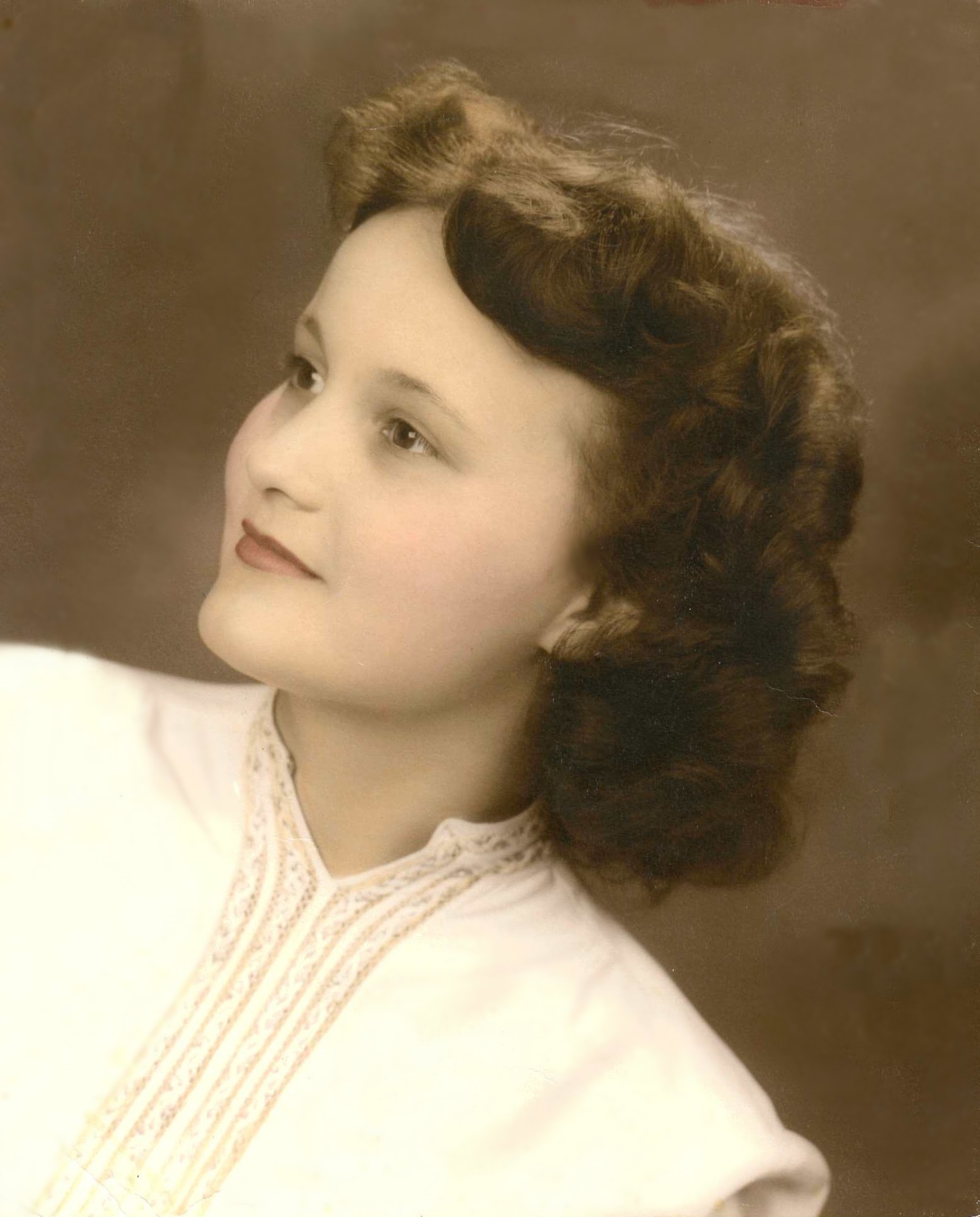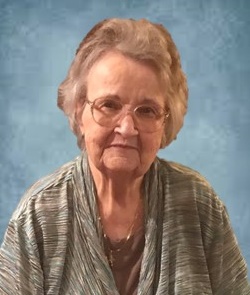 IRENE "RENE JO " SCHMIT,
8/24/30 - 8/22/19 Rene Schmit, the much-loved wife of Loran Schmit and mother of ten children, passed away peacefully in her home in Bellwood, Nebraska surrounded by her family and Father Ben Holdren of St Peter's Parish.
Rene was born to Clifford and Mearl (Shirley) Squire in Ashland, Nebraska where she attended the local schools and graduated from Ashland High School. In 1948, Rene first met Loran at a Catholic Youth Organization dance.  They married August 5, 1950 in St. Mary's Catholic Church in Ashland.  Rene and Loran just recently celebrated their 69th wedding anniversary.
Rene was above all else a devoted wife, mother, grandmother and great-grandmother.  Not only did she give her love to her many children and children by marriage, she treated her kids all equally with love and without judgment. Rene also opened her arms to the neighborhood children, frequently filling the large house on the east edge of Bellwood with laughing children.  She was also a mom to several foreign exchange students over the years, many who still wrote to her 60 years after she first hosted them on the farm.  Major holiday gatherings were always special at Rene's & Loran's big house. Careful calculations ensured that everyone would be able to be seated somewhere and Rene's fondness for a beautifully set table always made those dinners special occasions.  The conversations and laughter around that dining room table will never quite be the same without her.
She was a member of St. Peters PCCW, WIFE Women involved in Farm Economics, and Butler County Right to Life and the Butler County Arts Council, Rene volunteered for years with 'The Arc' helping children with disabilities. Most in St. Peter's Parish knew that Rene possessed a beautiful voice and for many years sang in the church choir. In her early years, Rene and her two sisters, Marie and Margie formed a singing trio, performed on the radio and even 'cut a record.'
Rene loved animals, especially birds,  flowers and gardening. She particularly loved to travel and in her lifetime, she took many memorable trips to Hawaii, Ireland, England, Australia, Germany, Luxembourg, and Taiwan.  Her travels sparked a great interest in history and you would always find her surrounded by her books and videos immersed in the subject.
Rene is survived by her husband of 69 years, Loran, sons and daughters:
Marcia – Mesa, AZ
Steve (Diane) - David City, NE
Mary – Chandler, AZ
Julie Schmit-Albin (John) – Lincoln, NE
John (Catalina Macaltao deceased) – McKinney, TX
Michele - Bellwood, NE
Susan (Kathryn Mason) – Tacoma, WA
Jean Hopwood (Kevin) – Orlando, FL
Lorin Dunlop (John) - Lake Oswego, OR
Michael – Mesa, AZ
Grandchildren: Paul Schmit (Brandie), Ryan Schmit (Paula), Patrick Schmit (Lindsey), Steven Schmit, Danielle Wilcox (Kyle); Tanya Fox-Albin, John S.  Albin (Shoko), Rachel Albin (Rafael), Molly Albin (Alejandra), Anne Albin; Elizabeth Hopwood, Christopher Hopwood; Rui Dunlop,  Great Grandchildren:  Madison, Jordyn and Nolan Schmit, John Seigo Albin, Leo Wilcox.
Rene is also survived by her sister Marie Groenjes, brother Jim Squire (Shirley) and many beloved brothers- and sisters-in-law; Marie Homan, Cece Smith, Jeanie and Theo Jones, Harry and Sharon Schmit and Jerrilee Squire Hoeft, who helped in her care in her final years of life and were with her at her passing. They did so much for Rene in her final years and we cannot thank them enough.  Rene is also survived by many nieces and nephews.
Rene was preceded in death by her parents Mearl and Clifford Squire, brother Tom Squire, sister Margie Farmer, daughter-in-law Catalina Macaltao Schmit, mother and father-in-law, Loretta and Nicholas Schmit, brothers and sisters-in-law: Bill Kayser, Dwaine and Sally Schmit, Bernice and Les Peck, Dr. Thomas Timothy Smith, George Homan, Gerhard Groenjes, Bill Farmer; nephews: Tony Homan, Jim Groenjes and Mike Groenjes; nieces: Catherine Squire
In lieu of flowers, the family requests Masses said for Rene, or donations made to St. Peter's Catholic Church in Bellwood, the Bellwood Volunteer Fire Department, or St. Judes Hospital.
Mass of Christian Burial Monday, August 26, 2019
10:00 A.M. St. Peter's Catholic Church, Bellwood
Rev. Ben Holdren, Celebrant
Visitation Sunday 2-5 PM with 5PM Vigil Service

Visitation continues Monday 9-10am—all at the church in Bellwood
Committal in St. Mary's Cemetery, Marietta
Lunch following in the church hall