Olga Hamernik, 94, of Leigh, died Sunday, March 3, 2019, at the Columbus Community Hospital in Columbus.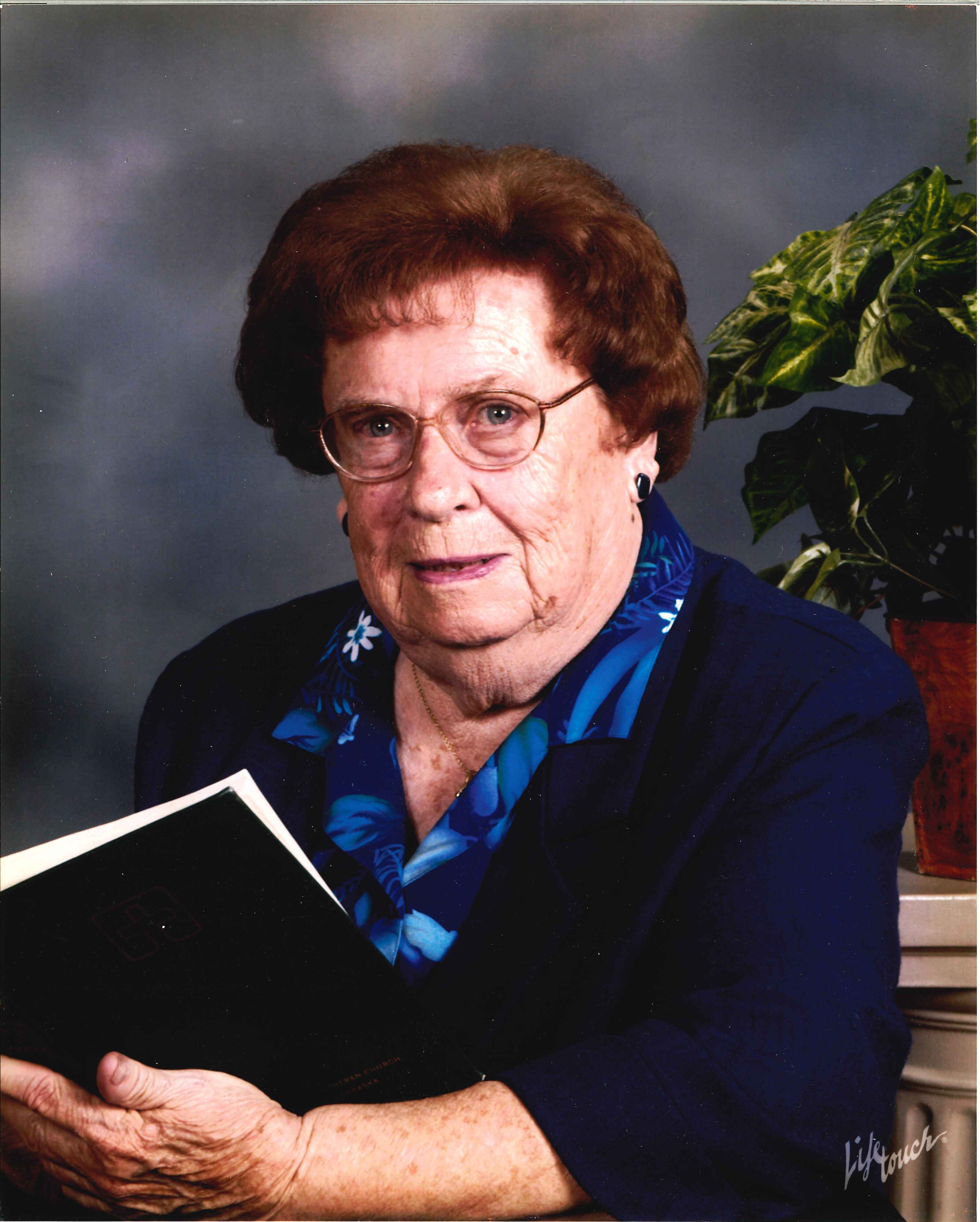 Funeral Service Thursday, March 7, 2019   10:30 A.M.
St. John's Lutheran Church-Leigh, Nebraska,  Jacquie Samway, Officiating
Visitation Wednesday 4-8 P.M. Kracl-Leigh Memorial Chapel
Visitation continues Thursday morning 9:30 A.M. at the Church
Lunch in the Church Basement    Committal in Clarkson Cemetery
Memorials in care of the family for future designation
Olga Marie Hamernik was born on a farm north of Leigh, on January 23, 1925, the only child of Frank and Bessie Boubin, Bilek. She attended Stanton County rural school districts 48 and 52, and graduated from Clarkson High School in 1942.  She took an extended course with Lincoln School of Commerce. On September 23, 1951, she was united in marriage to Joseph K. Hamernik at the New Zion Presbyterian Church in Clarkson.
They farmed 2 miles northwest of Leigh where Joe started the plumbing and well business.  They gave up farming in Dec. 1960 and moved to the northeast edge of Leigh, where they devoted full time to plumbing and well drilling.  The incorporated in 1979 and were joined by their two sons David and Lyle.  Olga was full time bookkeeper for Hamernik Plumbing and Well Drilling for fifty years, still semi active at the time of her death. She was a past member of the First Congregational Church serving as treasurer and the Ladies Guild, serving as Benevolence Treasurer.  She also helped with Bible school. When the church disbanded in 2005 she joined St. John's Lutheran Church. Olga also served as den mother for the Leigh Cub Scouts for a while.  She was a member also of the Leigh Community Club. She was proud of the Czech heritage.  She loved to listen to sing-along and dance to the polkas and waltzes and loved to cook and bake, especially apple strudels, always sharing with family and friends. She also enjoyed gardening, canning, flowers and taking care of her big lawn, where her John Deere lawn mower was her favorite form of transportation.  She loved to travel, play cards, and watch football especially the Nebraska Cornhuskers.
Besides 50 years as a bookkeeper she also found time to crochet, read, do variety puzzles, and drive friends to doctor appointments, while she was able to drive.   She also took care of her son Lyle during his three year battle with cancer. She was a loving wife, mother, grandmother and great-grandmother, witty and with a great sense of humor.
She leaves to mourn a son and daughter-in law, David and Arlene Hamernik, grandson Harley Hamernik, and Granddaughters, Becky (Sean) Kopecky of Davey, Ne. and Kelli (Brent) Reichmuth of Humphrey, Ne.  Great Granddaughters Taylor Jean Kopecky, Jordi Jo Reichmuth, Joey Ann Reichmuth and great grandsons, Jett Reichmuth, Judd Reichmuth and Kasen Kopecky.
She was preceded in death by grandparents, parents Frank and Bessie Bilek, in laws, Joe and Libbie Hamernik Husband Joseph K. Hamernik , June 10, 1993 and son Lyle J. Hamernik July 15, 2010.
TILL WE MEET AGAIN!  SPANEM BOHEM!