Gerald DeWispelare, 88, of David City, died Thursday, December 6, 2018, at david place in David City.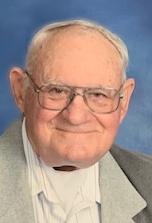 Mass of Christian Burial Tuesday, December 11, 2018,  10:00 A.M.
Presentation Catholic Church, Marietta,   Reverend Janusz Marzynski, Celebrant
Visitation Monday 4-7 with 7 PM Rosary-Kracl Funeral Chapel, David City
Visitation Tuesday 9-10:00 AM at the Church
Committal in the St. Peter's Cemetery with Military Honors
Marietta Lunch at David City Auditorium
Memorials to the church or the Aquinas Angel Fund
Gerald was born May 16, 1930, near Octavia,  to Emil and Geneva (Morbach) DeWispelare.  He received his education at Marietta and graduated from Marietta High School.  In 1951 he entered the United States Army, serving in Korea where he earned the Bronze Star.  On August 21, 1952, he married Wilma Vanis at Presentation Catholic Church.  Following his service to his country, he and Wilma lived and farmed near Octavia.  Gerald was a proud farmer, member of Presentation Catholic Church, a Fourth Degree Knight, past Grand Knight and a lifetime member of the Fr. McGivney Service Award of Council 1717.  He also belonged to the American Legion. Gerald was a very social person and he and Wilma loved to attend dances in the area.
He is survived by his wife, Wilma of David City, a daughter, Deb (Ed) Birkel of Lincoln, son Mike (Betty) DeWispelare of David City, one sister, Eva Kadavy of Fremont, brother Ed (Kim) DeWispelare of Valley, four grandsons; Todd (Kandi) DeWispelare and their children, Camden,Kollyns and Kenzie, Troy (Nicole) DeWispelare and Ella, Jason (Kristin) DeWispelare, Riley and Kallan and Blake (Andrea) Birkel and their children, Hannah, Halle and Mason.  Gerald is also survived by four sisters-in-law; Dorothy DeWispelare of David City, Marge Vanis of Rising City, Bernice Vanis of Lincoln and Kathy DeWispelare of Denver, Colorado.  He was preceded in death by his parents, step-mother Marie Birkel DeWispelare, brother Dan DeWispelare and in laws; Marcella and Bob Brezina, Bob Kadavy, Ray Vanis, Harry and Lucille Vanis, Marion Vanis,  Jim and Elise Vanis, Lee and Mary Ann Zegers and Ken DeWispelare.