Rita Helman, 80, of Brainard, died Tuesday, June 26, 2018 at St. Joseph's Villa in David City.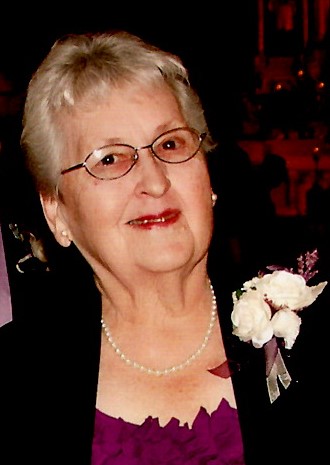 Mass of Christian Burial Friday, June 29, 2018  10:00 A.M.
Holy Trinity Catholic Church, Brainard, Nebraska, Father Steven Snitily, Celebrant

Visitation Thursday 5-7 PM with 7 PM rosary-at the church
Visitation Friday 9-10AM also at the church
Lunch in the Church fellowship hall
Memorials to Donor's Choice
Rita was born June 2, 1938, in David City to Louis F. and Amelia (Bartunek) Yindrick.  She attended area schools and graduated from Brainard High School.  On August 1, 1959, she married Joseph R. Helman.  Rita was a housewife, homemaker and farm helper to her husband. She was also very active gardening, baking and quilting.  She enjoyed spending time with her family.  Rita loved vacationing with the family, fishing and loved to sing with her sisters. She had also worked as a dental assistant to Dr.Lanspa and worked at Brainard Meats and the Brainard IGA. She was a member of Holy Trinity Catholic Church, the PCCW and the Holy Trinity Quilters.
Rita is survived by children:Randy (Sherri) Helman, David City,Tim (Annette) Helman, of Lincoln, Laura (Alan) Makovicka of Ceresco, Martin (Janene) Helman of Dwight, two sisters; Theresa Kuzelka and Margaret From, of Omaha, sister-in-law Annette Helman of Bellevue Washington, 14 grandchildren, 10 great-grandchildren and numerous nieces and nephews. She was preceded in death by her parents, Louis F. and Amelia (Bartunek) Yindrick, husband Joseph, granddaughter, Melissa Helman, two sisters;Marlene (Jerome) Palik, Ann Yindrick, brother Joseph (Betty) Yindrick and two brothers-in-law; Ron Kuzelka and Melvin From.