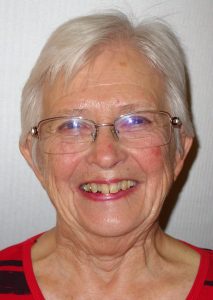 Claudette L. (Toni) Hager, 80, of Coeur d'Alene, Idaho, would like to announce her new address; all future correspondence should be directed to heaven where she joined her Lord Jesus Christ, and the love of her life, Jack Hager, on Saturday, October 8, 2016. She was born on October 12, 1935 in Schuyler, Nebraska to Frank and Lillian (Suchan) Parolek. She was a member of Lutheran Church of the Master, Coeur d'Alene, ID.
Toni is survived by her daughter, Theresa Marie Hager of Phoenix, Ariz., son (daughter-in-law), Bill (Patty) Hager, of Coeur d'Alene, and daughter (son-in-law) Sheryl A. (Mark) Kaminski, of Alvarado, Tex.; grandson, Brandon Jeffrey DeJong, of Lincoln, Neb., granddaughter, Melissa Marie DeJong, of Eugene, Ore., and grandsons, Tyler, Vander, and Anthony Kaminski, all of Alvarado, Tex. She was preceded in death by her husband, Jack A. Hager; and her parents and infant brother.
A Graveside Service will be held Saturday, October 22, 2016 at 10:00 am at St. Mary's Cemetery near Linwood. There will be a gathering at Redeemer Lutheran Church in David City after the Graveside.
Condolences may be left at www.englishfuneralchapel.com. Memorials are suggested to Lutheran Church of the Master in Coeur d'Alene, Idaho.
Kracl Funeral Chapel of Schuyler in charge of local arrangements.