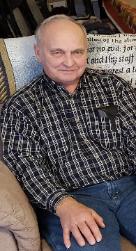 FUNERAL SERVICES FOR
Lumir J. Oborny 69
Mass of Christian Burial
Saturday, February 13, 2016
10:30 A.M.
St. Peter's Catholic Church
Bellwood, Nebraska
Rev. Rudy Oborny
Rev. Ben Holdren
VISITATION
Friday 4-7 P.M.
Rosary 7P.M.
Visitation Saturday 9:30-10:30A.M.
all at the church in Bellwood
MEMORIALS
Family Wishes
COMMITTAL
St. Peter's Cemetery
Marietta
DINNER
Church Hall
They are shared only with the family
Lumir J. Oborny, 69, of Bellwood, died Tuesday, February 9, 2016, at the Faith Regional Center in
Norfolk.
Lumir was born in the corridor of St. Mary's Hospital in Columbus shortly after his twin brother was
born in the car, on January 19, 1947, to Rudolf and Agnes(Divis) Oborny. He farmed with his father
all through high school, graduating from Aquinas in 1966. He served in the Army National Guard
from 1966-1972. On November 14, 1970 he married Marvine Baxa at St. Edward's Catholic Church in
Belleville, Kansas. They lived in Bellwood and Lumir worked at Schuyler Pack, the Coop grain
elevator in Bellwood, Drew's Tire Service in David City, Northside and for over 23 years at Timpte. He
loved carpentry, polka music, gardening and caring for his flowers and especially enjoyed spending
time with family, attending the activities of his children and grandchildren. Lumir had a backyard
group of squirrels-Chubbers and friends--who loved the corn he fed them. They would not eat anything
but corn right out of the field and Lumir always obliged. He was a member of St. Peter's Catholic
Church, a 4th Degree Knights of Columbus, Bellwood American Legion and former member of the
Bellwood Volunteer Fire Department.
Lumir is survived by his wife, Marvine of Bellwood, three daughters;Janet(Tom) Harrington of
Norfolk, Kathy(Shawn) Strizek, Valparaiso, Lynn(Shane) Kavan, Elkhorn, four grandchildren;Wlliam
Harrington, Hannah and Simon Strizek and Jase Kavan, one sister, Fran(John) Pachta, Bellwood, four
brothers;Charlie(Dorothy) Oborny of Bellwood, Father Rudy Oborny of Hebron, twin brother
Louie(Rose Ann) Oborny, Bellwood and Jerry(Becky) Oborny of David City and many nieces and
nephews. He was preceded in death by his parents and one brother, Joe Oborny.