Colleen Dubsky, 69, of Schuyler, died Friday, August 12, 2022, at the Methodist Hospital in Omaha.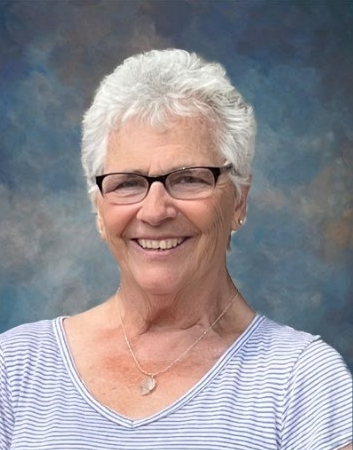 Memorial Service Friday, August 19, 2022,  11:00 A.M.
St. John's Lutheran Church, Schuyler   Rev. Day Hefner, Officiating
Visitation Thursday 4-7 with 7PM Sharing  of Memories- Kracl Funeral Chapel
Friday 10-11:00 A.M. at the church
Lunch in the fellowship hall immediately following the service
Committal at a later date
Memorials in care of the family for future designation
Colleen Ann Dubsky was born January 27, 1953, in Ainsworth, Nebraska to Donald and Carolyn (Wiley) Croghan.  She graduated from Schuyler High School in 1971 and earned an Associates Degree from Central Community College.  On June 5, 1976, she married Jay Dubsky and they made their home in Schuyler.  Colleen worked in Quality Control at BD in Columbus for 41 years.  She loved gardening, horse shows, attending all events of the grandchildren, crafting, shopping for antiques and thoroughly enjoyed the "girl trips" with her friends.  She was a huge advocate of the American Paint Horse Association her entire life.  She helped her parents raise paint horses and continued long after their passing.  Colleen earned a spot on the APHA Top Twenty in 2008, an achievement she was very excited to accomplish.  She showed at her first APHA World Show in 2019 and earned 4th overall.  She was currently an APHA National Director, serving on the Youth committee as well as other committees.
Colleen is survived by her husband Jay, of Schuyler, two daughters; Courtney (Clint) Lutjelusche of Richland, Mindy (Robert) Kerwin of Melbourne, Iowa. one son Nathan Dubsky of Schuyler, grandchildren Justin and Levi Lutjelusche, Elizabeth, Ashton and Addison Kerwin, one brother, Mike (Janell) Croghan of Linwood and several nieces and nephews. Also surviving are sisters-in-law JaNae Smith of Colorado, JaNel (Doug) Dumbrill of Wyoming, Jana (Terry) Hale of Minnesota and brother-in-law Jeff Dubsky of Fullerton.  She was preceded in death by her parents, Donald and Carolyn Croghan, grandparents Fred and Mildred Wiley,  Jay's parents Jerry and Janet Dubsky, brother-in-law Joseph Dubsky, grandparents Dave and Gertrude Croghan and many aunts and uncles.
Colleen and her family were featured in the June 2016 Paint Horse Journal article "Equine Inheritance," which showcased families who shared a love of Paints across multiple generations; an edited excerpt appears below:
For more than 40 years, Colleen Dubsky's family has made Paint Horses their passion. It started with her parents, Donald and Carolyn Croghan, and a horse named Skip Sky Hi. The 1969 palomino overo gelding earned 483 points, four APHA Champion titles, 17 Registers of Merit and a Superior with riders that included Colleen's brother, Mike, and sister, Vicky. "Skippy" could win all day, from morning halter class to late-night barrels and poles, Colleen says. The gelding even came out of retirement to show Colleen's then-6-year-old daughter, Courtney, the ropes in halter, showmanship, pleasure, trail, horsemanship and games.

"Growing up, I don't think we ever missed a World Show," Colleen said.

Colleen, who lives in Schuyler, Nebraska, says one of her greatest Paint memories is when Courtney was Reserve High-Point Youth 13 & Under at the 1990 APHA World Show with King's Valentine, a 1978 dun overo mare. That same year, Mindy won the Walk-Trot Western Pleasure class aboard Windy Breeze, a 1986 black overo mare. Both horses were raised by Donald and Carolyn.

"We didn't travel with a trainer," Colleen said. "So my kids were on their own. To go in there and win was just a big highlight for me."

Courtney has recently taken a break from showing, but the family has a fourth generation carrying their Paint banner: Courtney's sons, 13-year-old Justin and 10-year-old Levi, and Mindy's daughter Addison, age 9, show in all-around events.

"I grew up with horses, and I guess a love for Paints was just kind of instilled in the rest of us too," Colleen said. "As they grew up, they just never got away from it."

Showing Paints, Colleen says, allows her family to see and spend time with one another.

"We like showing Paints because we can do it as a family," Colleen said.