William D. Ehlers, 79, of Leigh, died Thursday, November 19, 2020, at the Countryside Nursing Facility in Madison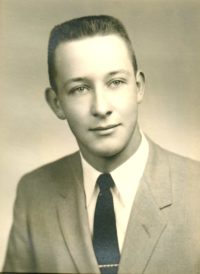 ALL COVID 19 RESTRICTIONS APPLY -- PLEASE WEAR A MASK
THE FAMILY ASKS NO FLOWERS, PLANTS OR STATUES PLEASE
Graveside Funeral Service Saturday, November 21, 2020  11:00 A.M.
Leigh Cemetery, Leigh, Nebraska with Military Honors
Visitation Friday 4-7 P.M.--Kracl-Leigh Memorial Chapel
Memorials in care of the family for future designation
William was born December 12, 1940, in Clarkson to William and Martha (Kabes) Ehlers.  After graduating high school he attended Trade School in Milford for two years.  After serving in the United States Navy, William went to Seattle where he worked for the Boeing corporation from 1966-2000.  He was involved in some of Boeings most interesting and classified projects.  In his spare time he enjoyed woodworking and tinkering with cars.
William is survived by four brothers; Robert (Barbara) Ehlers of Leigh, Russell of Stanton and Gary and Kenneth of Leigh, three sisters; Marilyn (Thomas) Hekrdle of Madison, Linda (Rodney) Borck of Naperville, Illinois, Carol (Leon) Carroll of Lincoln and many nieces and nephews.  He was preceded in death by his parents and an infant sister.